Air date:
Fri, 02/24/2017 - 10:00pm

to

Sat, 02/25/2017 - 12:00am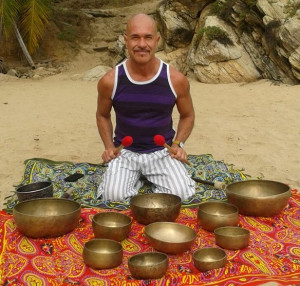 Humberto Alvarez as Guest & Music
This Friday on La Ruleta we will have as guest Humberto Alvarez MUSIC PRODUCER.COMPOSER, SOUND HEALER, PERFORMING ARTIST, POET, TEACHER AND SONIC MEDITATION GUIDE.
Doing Sound Therapy since 2002. More than 30 years of musical career.
He will join us on a phone conversation from his home in Mexico City.
Spiritual Art
Humberto Alvarez,Productor musical.Compositor.Multi instrumentista y Terapeuta holistico mexicano,miembro de la Sound Healers Association y de la SACM, Sociedad de Autores y Compositores de México.Treinta años de carrera musical.Empezó a tocar cuencos tibetanos y de cuarzo el año 1997 y desde 2002 hace Sonoterapia Anti Estrés.Estudios con Jonathan Goldman,Vicky Dodd, Laraaji y Jim Albani (Healing Sounds Intensive,Colorado),David Hykes (Harmonic Chant,Esalen Institute, California), Florence Riggs ( Toning,voice,Los Angeles) Wayne Perry (Los Angeles Sound Therapy Center),Dawn Pemberton (Voice and Body Percussion,Vancouver, Canada), Diane Mandle,(tibetan singing bowls) San Diego,CA.Colegio Mexicano de Reiki,Conservatorio Nacional de Música,Escuela Nacional de Música.Estudios con Mario Lavista,Daniel Catán,Rodolfo Halffter,Enrique Aracil (música antigua y clavecín) ,Mamselle Ruiz (Voz,técnica Bobby McFerrin), Leo Brower y Luisa Durón. Hijo del famoso compositor y pianista Herminio Kenny, mejor conocido como "El Tío Herminio" ("Las Rejas de Chapultepec") y quien fuera pionero de la TV infantil en México.
Creador de los grupos: M.C.C. Música y Contra Cultura, Sangre Asteka y Los Contentos del Sangoloteyo este último con Lorenzo Lagrava .Miembro de Casino Shanghai, Broken Heart, La Reata y Los Garrobos.
BLOG OFICIAL de SANGRE ASTEKA:
https://sangreasteka.wordpress.com/
Blog oficial del grupo M.C.C. Música y Contra Cultura
https://musicaycontracultura.wordpress.com/
Desde 1993 a la fecha, canta en nahuatl,composiciones originales que grabó con Eugenia León, Betsy Pecanins, Antonio Zepeda y Richard Villalón tres CDs dedicados a la espiritualidad y ritualidad lunar del México indígena.Estos CDs son : Malinalxochitl (Danza y Canto Lunar), Copil (Danza y Música Transpersonal) y Teonanakatl -Divina Carne-.Un cuarto Cd llamado Omasik Mestli Luna llena es una recopilación de los más representativo de los tres anteriores.Letra en nahuatl y música originales. Con una extensa colección de instrumentos indígenas mexicanos.
PREMIOS Y DISTINCIONES
AWARDS
Premio mejor Música Original para documental, Festival Pantalla de Cristal, 2007.
Reconocimiento por parte del Colegio Morelos por su taller "El Tambor Sanador",2008.
Reconocimiento por parte del Instituto de Cultura de Morelos por sus talleres "Sonido y Movimiento" y "Diseño Sonoro" (composición), 2008.
Diploma por parte del Grupo Bimbo por su taller "Manejo del Stress y Meditación Sónica", 2009.
Reconocimiento por parte del Sistema de Radio y Televisión Mexiquense por su trayectoria como productor y conductor, 2003.
Reconocimiento mejor música original para documental TV Festival Pantalla de Cristal, 2001.
Obtuvo en 1992 el "Sol de Neón" otorgado por la prensa especializada como mejor instrumentista (acordeón) y otro similar por sus polcas con el grupo Sangre Asteka, Auditorio Nacional.
Reconocimiento por parte de la Cruz Roja Internacional por sus canciones con Sangre Asteka, Festival por los Derechos Humanos, Honduras 1992.
Premio especial a cargo de Danza Mexicana A. C. como reconocimiento a tu trabajo en la composición para danza entregado en el Museo del Chopo por María Rojo y Yolanda Montes Tongolele,1994.
Reconocimiento por parte de la Universidad Autónoma del Estado de México, Museo "Luis Mario Schnider" en Malinalco, por su taller de "Composición para Instrumentos prehispánicos", 2001.
Update Required
To play the media you will need to either update your browser to a recent version or update your
Flash plugin
.