Coming Soon
Airs at: Fri, 04/24/2020 at 8:00pm - 10:00pm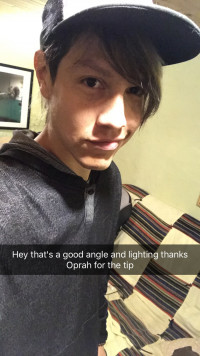 Subscribe to podcast
2 hour music/talk show, every 4th Friday from 8-10pm. Download the KBOO app!
Relevant music, made by young musicians and influencers. Critical information about the new age at hand, straight from the mouth of one of the most well-informed, articulate Gen-Z representatives. You'll hear classics of the past, the foundations of the national music scene, as well instrumentals such as beautiful flutes to raise your vibration of consciousness. Heavy electric guitars afterwards, followed by a few traditional drums and sitar. Pop music all the way right after, then Ender will delight you with his own music and thoughts on everything of great interest. As you can tell, a diverse compendium of auditary feedback awaits you on this show.
------------ Bridging the gap between Radio, Instagram, TikTok and YouTube! For Portland and beyond the galaxies !! 
Songs to uplift the spirit and untame your mind, heighten your awareness of this moment you're alive and facilitate our mutual triumph in existence.
Thank you for supporting local community radio. It's common knowledge young people tend to not listen to radio that much anymore, or at all unless we're driving and somehow we can't hook up our phones to our cars. Our culture is defined by video, pictures and on demand content, all on our mobile devices that have become appendices to our bodies. The power of talking to each other and have only the audio of the conversation available can be a massive tool to combat social disconnection, able to help young people get inspired by the work ethic and familiarity of their peers who are making their names known and who have crafted their own scenes, while simultaneously achieving success, happiness and a wonderful sense of well being. When the focus is on the voice, the conversation, with no images, it's like we close our eyes: we see the person in raw form, unedited, the soul above the overly dignified persona. Squirrels Know is as much about entertainment as it is about inspiration! 
Special thanks to the KBOO Foundation and the Marla Davis Fund for making this show possible !!   
Tune in to listen to the very special segment Roar of the Earth
----------------------------------------------------------
 ✬ The following are some of my favorite interviews since I started my work at KBOO at 14 years old. I have had the pleasure and privilege of interviewing tons of interesting people, and here's the Top 5! ✬
----------------------------------------------------------
WARPED TOUR 2017 IN SALEM, OR
June 2017
 ---------------------------------------------------------------

Conversation with
JOEY BIRLEM, CHARLES GITNICK, CHAD NAZAM 
March 2018
 ---------------------------------------------------------------
PORTLAND INDIE BAND
May 2018
 
----------------------------------------------------------------
Conversation with
October 2018
----------------------------------------------------------------
 ♛ BECAUSE OF COVID-19 PROTOCOL, PRE-RECORDED SHOW TO BE BROADCAST: ♛
MARCH 27th 2020
8:00-10:00PM PST
Stream on the KBOO App (available for Apple and Android) 
90.7FM Portland, 91.9 FM Hood River, 104.3 FM Corvallis/Albany​
-------------------------------------------------------------------------------------------