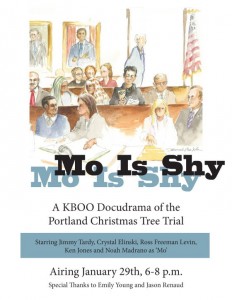 Subscribe to podcast
Mo is Shy, a KBOO docudrama of the Portland Christmas tree trial based on Joe Meyer's trial notes.
One year ago, Mohamed Mohamud was found guilty of trying to blow up Portland's Pioneer Square Christmas Tree. His sentencing had been postponed several times, now indefinitely.

KBOO reporter Joe Meyer attended every minute of the trial, wrote a script from his scribbled three notebooks, and called it "Mo is Shy."

Joe has written for the Evening News for three years. His first public affairs show was on the Joint Terrorist Task Force (JTTF) and featured Greg Kafoury warning of FBI malfeasance. Since then, Joe has produced shows on the Portland Water Bureau, Women in Programming, Coal Transport, Sex, and Fluoride.
"Mo is Shy" was recorded on three consecutive Sundays in KBOO's Studio 2, and achieves a high level of realism.
The amazing actors are familiar voices from KBOO news and other shows.

Mo is Shy premiered January 29th, 6-8p.m. in Portland at 90.7 FM, the wide world at http://KBOO.fm.
 
 
E-mail Joe Meyer to talk about his show.