Air date:
Mon, 12/21/2020 -

9:00am

to

10:00am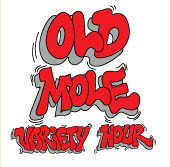 Views, Reviews, and Interviews from a Socialist-Feminist, Anti-racist and Anti-colonial Perspective
Patricia Kullberg hosts the Old Mole today, which includes the following segments:
All I want for Christmas is Immigration Reform: Bill Resnick speaks with Larry Kleinman in the second of a two part interview. Larry Kleinman, one of the founders of PCUN, Oregon's farmworkers union is now an organizer with Fair Immigration Reform Movement (FIRM), the national lobby for immigrant rights. The first part of their interview aired on December 14th and laid out the political landscape for immigration reform once Biden enters office. Today they talk about what you'll find on the Christmas wish list of the immigrant community, much of which could be done by Biden without going to Congress, simply by reversing Trump executive orders and agency policies and promulgating his own.
The Well Read Red: Tom Becker reads from an article published by In These Times on December 14, 2020, entitled, "For the Green New Deal to Work, It Has to Reject 'Growth,'"  which challenges the false promise of economic growth as the solution to human suffering and points out the fundamental contradiction between economic growth and solving the climate crisis. The article is by Riccardo Mastini, a PhD candidate in Ecological Economics and Political Ecology in the Institute of Environmental Science and Technology at the Autonomous University of Barcelona; Giorgos Kallis, an ecological economist and political ecologist working on environmental justice and limits to growth; and Jason Hickel, an economic anthropologist whose research focuses on global inequality and political ecology.
Rudolph the Red-nosed Reindeer: Joe Clement and Denise Morris review the Rankin-Bass stop-motion animated Christmas story Rudolph the Red-Nosed Reindeer. Originally aired on NBC in 1964, the GE-sponsored classic tells the story of two misfits and their eventual acceptance by Santa and his elves. But a deeper look reveals that social integration is a high cost to pay. This segment originally aired on December 23, 2019.
You can follow us on Twitter (@OldMole) and Facebook (TheOldMoleVarietyHour). You can send us comments or questions by commenting below or emailing us at oldmolevarietyhour [at]gmail.com.
Update Required
To play the media you will need to either update your browser to a recent version or update your
Flash plugin
.
Download audio file