Air date:
Fri, 06/09/2017 -

8:00am

to

9:00am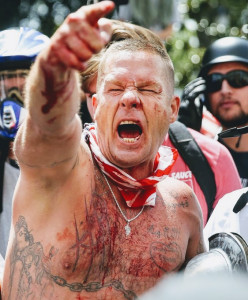 More Images: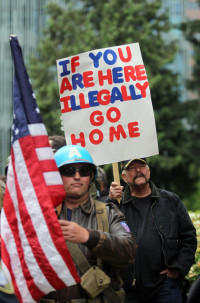 Linda Olson-Osterlund hosts Positively Revolting
Oregon is leading the nation in reported hate crimes and racist incidents.  This past Friday a Southwest Washington man was pistol whipped by a road raging truck driver and told to leave the country.  
-from KATU:
"Armando, who didn't want to reveal his last name, said he was driving northbound on Interstate 5 through Portland last Friday when he saw a car speed up to him and start tailgating him. Trying to get away from the driver, Armando switched lanes, but the stranger continued following him closely.
After switching lanes for the second time, Armando says the other driver got even more aggressive.
"He got close to my car to pass and hit me," he explained, adding the stranger rammed his car, causing damage.
After they pulled off the freeway, Armando said the stranger then began yelling racial slurs at him.
"[He said,] 'Get out of my country, you Mexican. Go back to your country or I'll kill you,'" Armando recalled. "He got back to his car, brought a gun and said, 'Get out of my country, you Mexican mother [expletive], or I will [expletive] kill you."
Armando said the attacker then put the gun to his head, and pistol-whipped him, leaving Armando with a large bruise on his head."
The trauma around the MAX killings by white supremacist suspect Jeremy Christian have put the spotlight on Oregon's history of racism and xenophobia that go back to it's founding.  
The following is a list compiled of reported racist incidents from the start of 2017 through March:
1/24 – Ashland. Neo-Nazi flyers plastered around Ashland.
1/25 – Ashland. Black truck with a swastika placard reading, 'The greatest story never told' photographed driving around Ashland.
1/26 – Ashland. Police arrest a Medford man who was posting pro-Nazi flyers.
1/29 – Portland. Five males enter the Mount Covenant Church and disrupt services, espousing hate for immigrants and refugees.
1/30 – Portland. A Latino man was assaulted by a skinhead outside Zupans He also made racist and homophobic comments during the attack.
2/1 – Portland. A man physically accosts workers and customers at Crema Coffee, screaming about "N lovers" and "faggots."
2/4 – Eugene. Racially-charged messages, including swastikas, were left on 2 Eugene businesses over the weekend.
2/6 – Portland. A brick is thrown through window of the Black Lives Matter display at a feminist book store.
2/7 – Eugene. Nazi skinheads sporting swastikas seen driving a van with a placard reading, "Trump: Do the white thing."
2/7 – Portland. A 35-year-old Hispanic man who works at a SE Portland funeral home was assaulted at his workplace was assaulted by an unknown white man who began yelling anti-immigrant slurs and hit him several times with some kind of object, possibly a belt.
2/14 – West Linn. Valentines with Hitler's picture were found at Athey Creek Middle School with the phrase, "Be mein."
2/18 – Ashland – A metal rail box was spray-painted with the words, "Anne Frank oven."
2/19 – Portland. A man storms the pulpit at the United Church of Christ and begins yelling anti-homosexual epithets at the pastor, who is gay.
2/23 – Hillsboro. Swastikas are painted in Liberty High School for the second time in two weeks.
3/2 – Lake Oswego. Racist graffiti written on walls in Lake Oswego High School.
3/4 – Salem. Officers arrested Jason Kendall, 52, for allegedly attacking a man working at a Middle Eastern restaurant with a pipe and telling his victim to "Go back to your country, terrorist,"
3/6 – Portland. The Mittleman Jewish Community Center (MJCC) evacuated its campus on Monday in SW Portland after receiving an e-mail threat. Numerous other Jewish centers are threatened on the same day.
3/7 – Portland. Anti-gay graffiti found in gender-neutral bathroom at Grant High School.
3/12 – Portland. Numerous swastikas painted on cars, trees, and pavement in Portland along SE 33rd Ave.
Update Required
To play the media you will need to either update your browser to a recent version or update your
Flash plugin
.
Download audio file