Air date:
Mon, 02/13/2017 -

8:00am

to

9:00am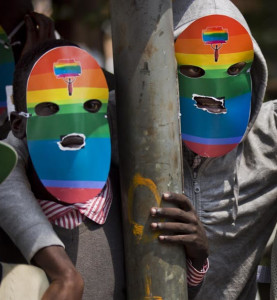 More Images: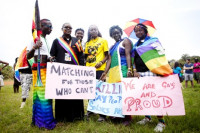 Cecil & Celeste welcome Mpagi Kirumira Micheal
"Homosexuality is not new in Uganda nor on the African continent. Like everywhere, it has existed forever. Homophobia, however, is new. It didn't start in Africa. It was strategically imported from the US, Europe and Middle East. The goal of the religious missionaries, who carried this disease with them, was to have homophobia spread. They have been more successful in Africa than they have been anywhere else. It is now lethal. We now need to take a stand against it."
From Mpagi Kirumira Micheal:
"My Experience with Homophobia in Africa, and Uganda in particular.
In 1998, two gay men were married in a barber shop in Kampala Uganda, declaring to their close friends and relatives that they had been in love for years and wanted their property to stay within the partnership should either of them pass away. At this time, I was chair of the Democratic party of my local community. 
The community began pressuring political leaders including me to disavow such an "immoral act".  Word spread and the story was published by the Monitor Newspaper. Yoweri Kaguta Museveni, the president of Uganda for 30 years now, read the story and issued orders to have the men arrested and brought to trial. As an activist against nepotism, tribalism and political sectarianism, I was determined to stand up and say that the order was unjust since I saw no victims of such relationships in my community.
I responded to the arrests by the government via interviews, letters to print media and other local media outlets. My efforts gave encouragement to my own brother, and to many others, to come out as "gay" to their extended families. But, fearing persecution, my brother and several others fled to London where they were eventually granted asylum.  Since then, I have included homophobia in my list of campaign issues especially because of my deep unconditional love for my brother.
In the years that followed there has been a growing hope that life for GLBT persons would improve in Uganda and other Africa countries.  Beginning in 2000 organizations supportive of gay right formed in Uganda, including "Spectrum Uganda Initiatives" and "Sexual Minorities Agenda."
But a new threat has arisen to challenge that hope: the strategic importation of militant homophobia sponsored by Christian groups and individuals in the United States."
Update Required
To play the media you will need to either update your browser to a recent version or update your
Flash plugin
.
Download audio file