Air date:
Tue, 11/15/2016 -

11:30am

to

12:00pm
More Images: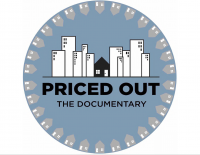 What voices are being heard regarding the issue of Gentrification? How is the media reporting and sharing the experiences of those that are being displaced by the lack of housing and leadership in our community
Swart co-produced the first film, Northeast Passage, with Spencer Wolf. Since then Swart has established himself as a reporter with a deep knowledge of the community. He published a community newspaper and hyperlocal website that covered St. Johns, North, and Northeast Portland, called the The Portland Sentinel, for five years. Since then he has worked on staff at the state's largest newspaper, The Oregonian, the state's largest television station, KGW NewsChannel 8, and as Director of Content during the startup of the web-based news platform GoLocalPDX.com. Swart volunteers his time to the project.
http://www.pricedoutmovie.com/northeast-passage/
http://www.pricedoutmovie.com/
The Residency in the Garden is a site-specific artist-in-residence program looking to create a system of hospitality that encourages guests to investigate their art practice in an urban flower garden located in North Portland, Oregon. Those interested in contemplating growth, exploration and experimentation through liminal spaces are encouraged to apply to either the Garden Residency or the Greenhouse Residency. Each will culminate in a curated showcase exhibiting the work produced during the creatives' stay. http://residencyinthegarden.com/
The Voice is a Muscle Annual Grant: Each year The Voice is a Muscle will award a $10,000.00 grant to an Oregon writer, to be distributed in two payments over the course of a year.  
We are dedicated to amplifying artistic voices by extending direct financial resources to writers. Your artistic labor is important and urgently needed.  Art is the counter voice to cultural repression. Writers matter. 
We understand making art as vital social labor, rather than market-driven product.
Corporeal Voices is dedicated to recognizing the voices, bodies and lives of writers as socially vital to society. We are committed to non-hierarchical collaborations, to the body as a site of resistance and resilience, to new forms of storytelling, and to new relationships to the planet and to one another.  THEIR 2017 INAUGURAL GRANT WILL BE DEDICATED TO: THE VOICES OF PEOPLE OF COLOR https://www.corporealvoices.org/
Drawing As Core at NorthView Gallery: This exhibition will be a collection of large-scale, singular installations, where each artist's work will represent a specific material response to and elaboration of the drawing process. Esler's panoramic mural on synthetic paper is executed almost exclusively with densely worked charcoal. Ross-Paul's constellation of painted panels integrates dry marks with predominately fluid media. Zangara's work, a series of three paper scrolls suspended from a massive, freestanding frame, literally bridges Esler's and Ross-Paul's work, appearing to be equal parts drawn line and brushed on color. https://www.pcc.edu/about/galleries/sylvania/
Are you a video-maker who wants to teach your skills to others? In this two-hour workshop, media artist and educator Jodi Darby will go over the nuts and bolts of becoming a teaching artist that specializes in video. Learn some best practices, such as lesson plan basics, equipment wrangling and how to integrate your practice into your lesson plans. You'll also get an overview of what teaching opportunities are available in our region.
Cost is FREE!
Register here: https://community.pcmtv.org/education/workshops/specialty/show-not-tell-how-be-teaching-video-artist/17395
Update Required
To play the media you will need to either update your browser to a recent version or update your
Flash plugin
.
Download audio file