Air date:
Wed, 10/19/2016 -

8:00pm

to

10:00pm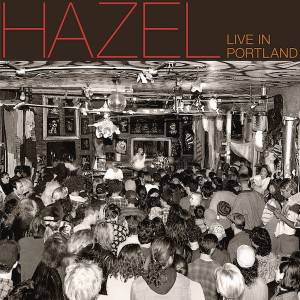 More Images:
Two show favorites on a very special Drinking From Puddles !
   Strangely (or actually,...naturally!), one of the bands that epitomizes the Portland music scene of the 1990's didn't sound, look or act like any other band. The whirlpool of influences that forged Portland's Hazel were embodied in the presence and songs of the four distinct individuals on the stage. The fact that one full time member was a performance/artist dancer, was more than just unusual, it was a statement. This band was going to (and would) set their own rules, and were willing to live or die by them...expectations or music industry be damned. 
  A Hazel show would often leave the show-goer with a powerful we-can-do-it/us-against-the world triumphant afterglow. The push-me pull-you of guitar hitter Pete Krebs and drum pounder Jody Bleyle's aural attacks could sometimes seem like two different melodies fighting each other for dominance within the songs framework, only to eventually fuse into a singular and memorable stab at musical complacency. Anchored by the propulsive funk of rock-steady bassist Brady Smith, and with the cake-frosted and topped by the dancing stick of dynamite that is Fred Nemo, made for a always memorable and exciting evening. A wonderfully presented documentary film, directed by Adrienne Leverette and Rob Tyler, finally sheds a bit of light on this longtime Portland enigma (https://vimeo.com/88487144).
   Hazel has has sporadic reunion shows over the years, two long sold-out (and benefit) ones were recently completed at Mississippi Studios in the wake of the release of Hazel: Live In Portland, the just issued release on Voodoo Doughnut Recordings (pictured). But wanting to help out the Chloe Eudaly for City Council campaign they have scheduled another benefit performance on 10/30/16 from 2-6PM at the Left Bank Annex with fifth Hazelteer Donna Dresch (producer of Hazel's 1995 Sub Pop release Are You Going To Eat That, and co-founder (with Jody & Kaia Wilson) of one of the most important rock bands of all time (in the area of creating social change and justice) Team Dresch sitting in on bass for Brady, who had to return to his post-Hazel life back east. Which has also given us this rare radio opportunity tonight! 
  Also calling in early in the program to check-in prior to her upcoming 11/30/16 appearance at Mississippi Studios will be Kristin Hersh (Throwing Muses, 50 Foot Wave, Kristin Hersh) which will be her tenth appearance on the program in some form since 1989, which is good for second on the all-time DFP appearances list! That very fact should attest to how strongly I feel about the raw beauty and sonic power of her art, in any of the forms it has taken. 
This program will be available to stream on kboo.fm afterwards, if you have a TV appointment to attend for some reason.
thanks for listening!
--Brandon
Update Required
To play the media you will need to either update your browser to a recent version or update your
Flash plugin
.