Air date:
Mon, 08/23/2021 -

9:00am

to

10:00am
The Old Mole Variety Hour is pleased to present Thirty Years in the Streets of Portland: The Activist Photography of Bette Lee. Follow the link to view a collection of Bette's photos with her reflections.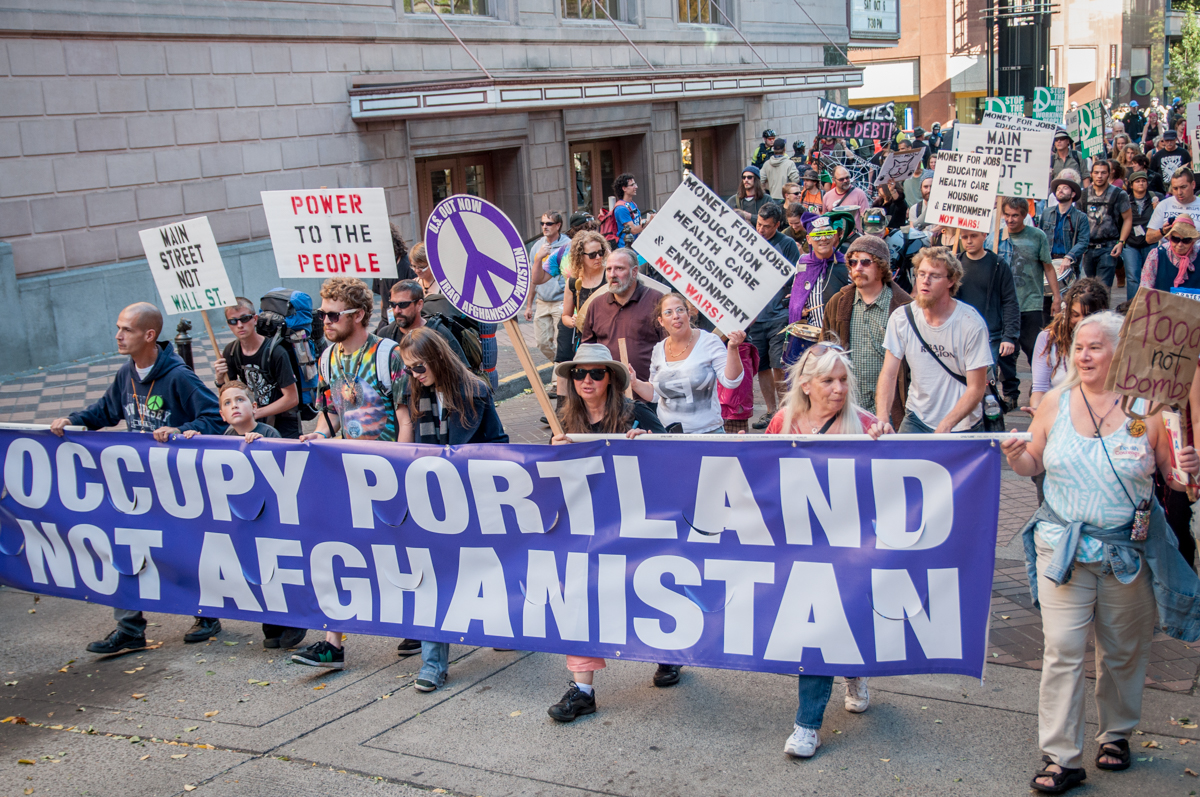 2012 Occupy Portland, Not Afghanistan: Photo by Bette Lee
Patricia Kullberg hosts this episode of the Old Mole, which includes the following segments:
Who Created the Taliban? Bill Resnick interviews Stephen Zunes, who teaches, writes, and agitates, specializing in U.S. foreign policy, the Middle East, and the virtues of strategic nonviolent action. They discuss the roots of the Afghanistan debacle, in particular the CIA's creation of the Taliban in the 1980's under Reagan to destroy a Soviet Union-backed government in Afghanistan. The son, the Taliban, then rebelled against the father, the U.S., and after thirty years of a vicious and futile war forced the father to withdraw. Bill and Stephen also discuss what the U.S. owes the Afghan people and whether the Taliban can be moved to moderate their very strict and punitive version of Sharia law. They conclude with a discussion of the U.S. National Security Apparatus and the CIA. Since 9-11 they've focused on the Middle East, making it much more violent, poor, and despot-ruled. They now refocus their energies and U.S. military power on Asia, specifically to force China to abandon its imagined plan to dominate the world and outer space. Watch for intensified demonization of China and a space arms race.
Music, Art and Hope: Chelsea Ratzlaff talks with Chicana lesbian musician and writer Naomi Littlebear Morena about climate change and her revisitation of "Song to a Dying Star," as well as the role of art in mental health and community organizing. Naomi's writing is featured in the seminal third-wave feminist anthology This Bridge Called My Back and her protest songs have been adopted internationally. You can view her music video of her song "Survivors" on youtube by clicking the link. Naomi will also be a featured speaker at Washington State University's 2022 Spring Writers Series.
On Compromise: Jan Haaken talks with Rachel Greenwald Smith about her new book, On Compromise: Art, Politics, and the Fate of an American Ideal. Greenwald Smith is associate professor of English at Saint Louis University, where she teaches classes on 20th- and 21st-century literature. Her essays on contemporary politics and culture have appeared in a number of magazines and periodicals.
Update Required
To play the media you will need to either update your browser to a recent version or update your
Flash plugin
.
Download audio file