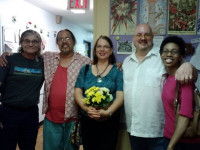 Tillicum Wawa Native American show is now off air at KBOO
I have really enjoyed being a co-host,co-producer on the native american show "Tillicum Wawa" on KBOO these last few years, along with Shusli, Eugene, Louisand our wonderful engineer - Kurt.  It's been a real pleasure and a fulfillment of my contirbution to the world and the Native world  in particular.
I've been volunteering at KBOO for 25 yrs off and on.Starting with John Talley on "Indian World" for 22 years. He was my mentor and friend. He  encouragement through my life. What a blessing to have know you all!!
I've made some really great friends!,I've learned alot about our "Indian World" and have enjoyed bringing you, along with the rest of our crew, some of the best and most up to date info on what is going on in our world.
Native news is blacked out on the three major networks- ABC<CBS<NBC! That is why Native programming is so important. Please don't hesitate to apply to KBOO to start a new Native program!!
And don't forget to go to the Powwows and bring your friends and family. It is important to keep us together and to show others that we are all still here!! oho
It is time for us  to move on.
Wado, thankyou,
Donadagohuhi , until we meet again!!Etsi Yona (freemamabear@yahoo.com)