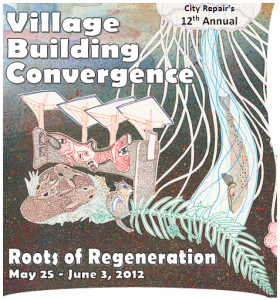 The Roots of Regeneration is the theme of City Repair's 12th annual Village Building Convergence.
KBOO is excited to co-sponsor the Village Building Convergence--  a ten-day celebration of building community in very tangible ways.
Briefly, the VBC brings people together to create benches, community kiosks, gardens, street paintings, tile mosaics, and more! Neighbors and volunteers from all over will bring to life the natural building, permaculture, and public art projects that they've been planning. Learn valuable skills for urban sustainability and social regeneration while celebrating the creativity and diversity of our wonderful city! 
There are gatherings every evening, where all can come together to share food, listen to presentations by leaders in the forefront of positive change, and take in exhilarating musical performances from local bands.
While there is no cost to participate in the day-time building projects, the evening events range from free to $30, with worktrade available most nights.  
A truly unique experience, The VBC is a little like a conference, a festival, and a celebration-- all in one.
Dates: May 25th - June 3rd
Theme: Roots of Regeneration
Central Venue: St. David's of Wales, 2800 SE Harrison

For more information contact: vbc@cityrepair.org