More Images: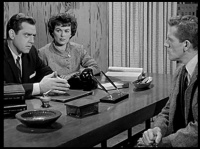 … That he loved Perry Mason. 
Or at least he watched it diligently. 
Now, coming up with something new to say about Alfred Hitchcock is harder than ever, with over 400 books on the director and his movies, and at least five new ones each year. There have been books on Hitchcock and music, – and actresses, – and spies, – and gays, – and various philosophers, – and religions, – and food, bondage, heights, marriage, birds, and children. 
But Hitchcock and Perry Mason is a link that researchers can track thanks to various resources, specifically, Hitchcock's movies, the IMDB, and the complete run of Perry Mason episodes, which ran from fall of 1957 to spring of 1965, overlapping in production with Hitchcock's films North by Northwest, and Hitchcock's own television shows, which ran from 1955 to 1965. Diligent cross-referencing shows that many of the actors appearing on Perry Mason also pop up in movies made not long after the airing of episodes. 
Back when television was a shared experience, millions of people would all be watching the same programs at the same time. Thus imagining that a happy family group watch of a Mason episode was simultaneous with the Master of Suspense and his wife viewing the same episode is not a stretch. And Perry Mason became a national phenomenon, with its third season being the most popular of all nine. 
And the phenomenon had a long afterlife. Speaking locally, in Portland, the then-independent, unaffiliated local station KPTV (which became a Fox channel when that network started) aired Perry Mason reruns every day at noon, for what must have been decades. People would build their day around the event. And the show became increasingly commercial laden until they started snipping out parts of an episode. Dull shots of cars driving up to a house, or establishing shots of courthouses, that sort of thing … in fact, the moments that may people now fast forward through anyway. 
I don't recall watching the show all that much, perhaps when home with the flu, but recently when HBO did its version of Perry Mason, with lots of back story and character diversity, I was reminded of all the people I knew who watched the original every day at noon. So I decided to re-create that experience, and watch an episode a day at noon, to see what it was like. 
Here's the first thing that dawned on me: Several actors who ended up in North by Northwest appeared in the first two seasons. 
Here they are. Bear in mind that Perry Mason began airing in fall of 1957, and NxNW was released in 1959, which means it was in production in late 1957 or 1958.
Philip Ober played the real Townsend stabbed in the United Nations. In Perry Mason S1E30, he played Ralph Thomas.
Josephine Hutchinson played the fake Mrs. Townsend (really Vandamn's sister), and played Leona Walsh – in the same episode. 
Les Tremayne was the auctioneer in NxNW, and played Frederic Archer III in S1E29. Later in Season three, he was one of the replacements for William Talman's DA, when he was suspended from the show by CBS based on a morals clause when he was arrested at an orgy. In S3E22, "The Case of the Madcap Modiste," one of the science experts he examines on the stand is Robert Ellenstein, who was one of the henchmen in NxNW  – See the next paragraph. 
Two of the henchmen, Robert Ellenstein (Licht, with the sideways held cigarette) and Adam Williams (Valerian, the "gardener") appeared in separate episodes just a week from each other (John Addison, S1E9 ; Jason Beckerman, S1E10).
In the penultimate episode of Perry Mason S2, and here's another.  You will recall Sgt Flamm as one of the cops that arrest Grant at the auction. He is the actor Patrick McVey, and right now he is a DA in San Diego.
In Perry Mason, S3E2, "The Case of the Watery Witness," no less than three of the actors had parts in North By Northwest:
 Ned Glass played the ticket taker ay the train station ("You're in luck ..."). Here he is Mr. Smith, a diamond cutter.  
Malcolm Atterbury was the guy at the bus stop in the prairie, and was also a cop in The Birds. He was a prolific character actor, and here plays Dennis Briggs. He was also Sam Burris, the manager of the movie star victim in Mason S1E7, "The Case of the Angry Mourner."  
Frank Baker is the most insignificant part of the trio. An auction guest in NxNW, here he is merely a courtroom spectator.  Earlier in his career, he was mostly a stunt man.  He's visible sitting right behind Burr. He may be in the show only to continue to qualify for Actor's Guild health insurance, which happens often. 
Now, maybe Hitchcock or his casting people also placed these performers in episodes of Alfred Hitchcock Presents, but it does seem odd that all of these people ended up in NxNW after being in the first two seasons of Perry Mason. One would have to run a big data check between the two shows, and Hitchcock's movies. It's also possible that Alma spotted them. She was a help in casting, and she noticed Tippi Hedren in a TV commercial, which led to The Birds. 
Further viewing shows that the Mason mining went on. From Psycho, John Anderson the used car salesman, appears as contractor George Andrews in S2E24, and later fashion photographer Bud Farrand in S3E8. Lurene Tuttle, who played  the wife of John McIntire's Sherrif Chambers ("In bed!") is a xxx in episode S1E32, and went on to be in several more Masons. Doreen Lang was the hysterical mother in the Birds diner scene but first was Laura Fields  in 3.x, "The Case of the Lucky Legs," though she had also been in Hitchcock's The Wrong Man. 
In "The Case of the Frantic Flyer," S3E12, Simon Oakland plays a man embezzling his boss in an elaborate scheme that involves faked deaths, bodies, and a plane crash. Oakland of course is the psychiatrist at the end of Psycho. Famously, after the shooting of the scene, Hitchcock is supposed to have said to Oakland, "Sir, you have just saved my picture." Curiously, at one moment in the show the music foretells the slashing strings of Bernard Herrmann's score for Psycho. Herrmann worked on the music for the series.
In "The Case of the Prudent Prosecutor," a character labeled "Duck Hunter" is played by Frank Albertson, a utility TV character actor, and before that a long-term B-movie staple. In Psycho, he plays the rich Texan buying a house for his daughter's wedding. Albertson has only a one line cameo, but his voice is so distinctive that one instantly recognizes him as the oilman. Curiously, a Disney actor who plays the defendant, J. Patrick O'Malley looks a lot like Hitchcock, and being British, could probably have played him in a biopic. 
Way post-NxNW, Philip Ober, the knifed UN official, appeared again, this time as the defendent in what was the season opener of No. 4, but which was shot earlier for season three, all this having to do with the Tallman arrest. One of the episode's curiosities is the presence of a dashing Robert Redford in an early role. He is really good in the part of a callow rich kid "newlywed," characters for which he was soon to be typecast. But I wonder, What would I have thought of Redford at the time? Would I have mixed him up with the role and viewed him as "bad," as a character and as an actor (he isn't-wasn't)? There are many actors who have appeared in Perry Mason early in their career doing good work, not to mention many other shows that utilized a host of character actors (Seinfeld, xxx), who only later went on to fit cohesively into a great part. Did Hitchcock have an eye attuned to young, untried actors? Or was he looking for "types"? Or was it all Alma, or his casting associates?
Having made this link, I don't know how far to go with it. Hitchcock was probably always interested in "types," who could convey information in shorthand to the viewer. 
Check back for updates; the piece is still in progress. I'm going to be adding more cast members as I find them, and also brief profiles of the performers.