Air date:
Wed, 06/17/2020 -

12:00pm

to

12:15pm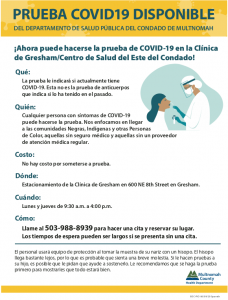 More Images:

Noticias en español 06/17/2020
Breve Informativo sobre el COVID-19 de las últimas noticias locales, nacionales e internacionales sobre el COVID-19, relevantes para la comunidad latina de Oregon.
Hoy miércoles 17  de junio del 2020.
Se han recuperado y sobrevivido al COVID-19, más de cuatro millones 356 mil personas en todo el mundo. En Estados Unidos más de 903 mil, en Brasil más de 477 mil, y en Italia más de 179 mil. Hay más de ocho millones 326 mil casos confirmados de COVID-19, y han ocurrido más de 448 mil decesos, en más de 209 países y ciudades del mundo. En Estados Unidos hay más de dos millones 218 mil de casos confirmados, y más de 119 mil fallecimientos. En Oregon hay 6,098 casos y 182 personas han muerto.
https://www.worldometers.info/coronavirus/#countries y la Universidad Johns Hopkins https://bit.ly/3apVrrb
Según unos investigadores del Reino Unido, un medicamento de esteroides que está ampliamente disponible en el mercado llamado dexametasona, puede ayudar a tratar a los pacientes graves con COVID-19 que se encuentran hospitalizados, y     que requieren ventilación u oxígeno. El hallazgo es preliminar, y aún se están recopilando datos. Lo que a los ojos de un experto de salud es un avance en el combate contra el coronavirus.
Mientras tanto, se estima que los adolescentes y niños tienen menos posibilidades de infectarse de COVID-19 que las personas de tienen 20 años o más, según una investigación realizada por epidemiólogos del London School of Hygiene and Tropical Medicine y publicado en la revista Nature Medicine.
Los investigadores estiman que los síntomas clínicos de coronavirus se manifiestan en alrededor del 21% en las personas de entre 10 y 19. Esta estimación aumenta a cerca del 69% en personas de 70 años o más. CNN reporta.
En los Estados Unidos, otras 740 personas murieron a causa del coronavirus en las últimas 24 horas, con lo que el número de muertos asciende a más de   117,000. Más estadounidenses han muerto por el virus que los que murieron en la Primera Guerra Mundial. El Washington Post informa que nueve estados reportaron máximos de casos de COVID-19 en un solo día el martes o nuevos máximos promedio de siete días. Esos estados son Alabama, Arizona, Florida, Nevada, Carolina del Norte, Oklahoma, Oregón, Carolina del Sur y Texas.
El presidente Trump tiene programado hacer campaña en Tulsa, Oklahoma, el sábado, a pesar de las advertencias de los funcionarios de salud pública. El director del Departamento de Salud de Tulsa dijo que desea que Trump posponga el evento bajo techo. El comisionado de salud de Oklahoma ha instado a todos los asistentes a hacerse la prueba de COVID y a usar máscaras faciales. Dos abogados de Oklahoma han demandado en un intento por detener la manifestación, diciendo que el evento pondrá en peligro a toda la comunidad de Tulsa. La visita de Trump se produce cuando la administración continúa minimizando la gravedad de la pandemia. El grupo de trabajo sobre coronavirus de la Casa Blanca no ha realizado una sesión informativa desde el 27 de abril. Democracy Now reporta.
El Wall Street Journal dice que la cantidad de muertes por COVID en hogares de ancianos y centros de atención a largo plazo ahora ha superado los 50,000 en los Estados Unidos. Esto se produce cuando el número de casos de COVID-19 en las cárceles se está disparando. Según The New York Times, 68,000 prisioneros han sido infectados. El número se ha duplicado en el último mes. En Arizona, la ACLU y otros grupos han demandado a la Oficina del Sheriff del Condado de Maricopa en busca de la liberación de personas vulnerables de las cárceles del condado. En las últimas semanas, el número de casos confirmados de COVID en el sistema de cárceles del condado ha aumentado de apenas seis a más de 300, un aumento del 5,000%.
Por otro lado, en Portland, las familias migrantes y los educadores se preparan para los programas de verano sin instrucción en persona, pues serán dados de manera virtual y a la distancia. Lo que para algunos estudiantes es difícil porque extrañan a sus maestros y amigos. Pero, los maestros dicen que si los padres animan a sus hijos a aprender en línea, será de gran ayuda para todos.
Las posibilidades de que un movimiento de protesta prosperará en medio de la pandemia del coronavirus parecía escasa, escribe el autor de Portland Jacob Grier. Pero la imagen de los manifestantes en todo el mundo que se niegan a retroceder lo llevó a unirse a las manifestaciones. Y contra viento y marea, Black Lives Matter ha inspirado un cálculo atrasado de los excesos crueles de la policía estadounidense y las formas en que victimiza particularmente a las comunidades negras, escribió. Oregon Live reporta.
| | |
| --- | --- |
| Redacción | Ivonne Rivero y Gloria Sánchez-Keeth |
| Edición | Gloria Sánchez-Keeth |
| Producción | Ivonne Rivero y Gloria Sánchez-Keeth |
Update Required
To play the media you will need to either update your browser to a recent version or update your
Flash plugin
.
Download audio file