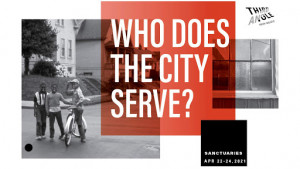 3A Artistic Director Sarah Tiedemann talks with Sanctuaries composer Darrell Grant and director Alexander Gedeon
When we recorded this episode of the Anything But Ordinary podcast with critically acclaimed composer and jazz pianist Darrell Grant and experimental opera director, songwriter, and performer Alexander Gedeon a few months ago, the world looked very different, and we were looking forward to the April premiere of Sanctuaries, the final show in Third Angle's 2019-2020 season. 
The day we're releasing this episode is actually the day Sanctuaries should have opened. For health and safety reasons due to the virus, we've had to postpone the performances, and that's been challenging to wrap our heads around.
We've been working toward this for years now and this project is meaningful to us in so many ways. We're taking comfort in the fact that we WILL still be creating this important work for our audience, and we are thrilled to be able to announce that we've officially rescheduled the performances for April 22-24, 2021.
Mark you calendars, because once we are back out and about, we are all going to be reveling in live, communal performance experiences more than ever.
Podcast Music: Sanctuaries excerpts played by composer Darrell Grant.

Darrell Grant | pianist/composer
Darrell Grant has risen from his introduction to audiences as the pianist in vocalist Betty Carter's trio to an internationally-recognized performer, composer, and educator who channels the power of music to create community, sustainability, and social justice.
Having performed with jazz luminaries including Frank Morgan, Tony Williams, Brian Blade, Esperanza Spalding, and Nicholas Payton, he followed his 1994 New York Times Top 10 Jazz Album Black Art with seven albums receiving critical acclaim from publications including The Village Voice and DownBeat Magazine. He has toured as a bandleader and solo artist throughout the U.S., Canada, and Europe as well as in Turkey and Japan in venues from Paris's La Villa jazz club to the Havana Jazz Festival.
Dedicated to themes of hope, community, and place, Grant's compositions include his 2012 Step by Step: The Ruby Bridges Suite honoring the civil rights icon who integrated New Orleans's public schools. Also in 2012, he won a Chamber Music America grant for his composition The Territory which explores the terroir of music through the geographic and cultural history of Oregon. Committed to practicing civic engagement through artistry, Grant has driven pianos deep into state forests to support the environment, arranged protest anthems, and shared the stage with Bishop Desmond Tutu.
Grant lives in Portland, Oregon where he was inducted into the Jazz Society of Oregon Hall of Fame in 2009. In 2017, he received a Northwest Regional Emmy for his composition in the Oregon Public Broadcasting special "Jazz Town," and he was also named Portland Jazz Hero by the Jazz Journalists Association. Most recently, he was named the 2019 Portland Jazz Master by PDX Jazz. He currently serves as Vice President of the board of Chamber Music America and is a Professor of Music at Portland State University where directs the Leroy Vinnegar Jazz Institute.

Alexander Gedeon | opera director
Alexander Gedeon is an opera director, songwriter and performer born and based in Los Angeles, committed to developing new audiences for the expanding frontiers of American opera. Alexander made his opera directorial debut with La tragédie de Carmen at San Diego Opera in 2017, hailed as "artistically fascinating" and "visually stunning" by The San Diego Union Tribune, and "the perfect experimental approach to opera" by The Times of San Diego. Last year, Alexander associate directed the LA Philharmonic's production of John Cage's Europeras 1 & 2, directed by MacArthur Genius Fellow Yuval Sharon. Other recent credits include the world premiere of David Lang's anatomy theater, LA Opera (assistant director); The Rake's Progress, Pacific Opera Project (assistant director / choreographer). As a recording artist, Gedeon collaborated with Grammy-winning producer Paul Epworth (Adele, Florence + the Machine), featuring music on ABC TV and the iTunes Store's worldwide playlist. Under the pseudonym Yellow Alex, Alexander composed, mixed and produced House of Discipline, receiving nearly one year of airplay on LA's KCRW. He is a graduate of New York University's Experimental Theater Wing, and trained at the Royal Academy of Dramatic Art in London.
Sarah Tiedemann | Third Angle Artistic Director
Sarah Tiedemann currently serves as second flute/piccolo of the Oregon Ballet Theatre Orchestra. She has also performed locally and internationally in groups including the Swedish Radio Symphony, Royal Stockholm Philharmonic, Norrköping Symphony, Oregon Symphony, and Boston Philharmonic. Her new music credits include performances with Third Angle New Music, Cascadia Composers, Northwest New Music, and Boston's Callithumpian Consort, and in 2004 her world premiere performance of Derek Jacoby's Flute Concerto was broadcast internationally on WGBH's Art of the States.
The recipient of a Jacob K. Javits Fellowship in Performance from the U.S. Department of Education, Sarah earned a Bachelor of Music degree from Oberlin Conservatory, followed by a Master of Music degree with honors in performance and academics from the New England Conservatory. She then received a fellowship from the American-Scandinavian Foundation and went on to pursue postgraduate studies at the Royal College of Music in Stockholm, Sweden. Sarah teaches at Lewis & Clark.
Update Required
To play the media you will need to either update your browser to a recent version or update your
Flash plugin
.