Air date:
Tue, 08/20/2019 -

11:30am

to

12:00pm
More Images: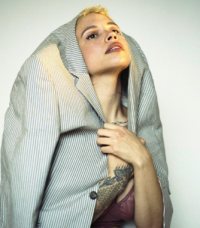 On Tuesday August 20, 2019 at 11:30 a.m. Joseph Gallivan interviews Kristan Kennedy and Roya Amirsoleymani [pronounced a-MEER-soli-MARNY] of the Portland Institute for Contemporary Art about the Time-Based Art festival of 2019.  As two of the three curators of the annual performance art festival, they will talk about who to look out for and leave it to the listener to divine what the general vibe and themes will be this year, the seventeenth iteration of TBA.  TBA19 runs Sept 5 to 115, 2019.
BIOS:
KRISTAN KENNEDY, ARTISTIC DIRECTOR AND CURATOR OF VISUAL ART
Kristan Kennedy is a curator, artist and educator and has been involved with PICA since 1995, starting as a volunteer before being presented in the program as an artist in 2001. Kennedy served on the Board of Directors beginning in 2001 and joined the staff in 2003. Working with Frey and Boberg-Doughton, she helped to lead the organization through its founding leadership transition and major programmatic shift to PICA's inaugural Time-Based Art Festival. Kennedy has been curating programming, artist residencies, publishing, lecturing and teaching since 2005 when she started programming visual art, multidisciplinary, performance and music for the TBA Festival and returned PICA to full program of year round exhibitions and public programming in 2012. Kennedy is the chief architect for the Precipice Fund, PICA's re-granting program funded by the Warhol Foundation. Kennedy lectures about curatorial practice and artist – centric ethics at institutions nationally including most recently at Bard CCS, Washington State University, School of the Art Institute of Chicago, Oregon State University, Pacific Northwest College of Art, Cornish College of Arts, Flagler College, Hampshire College, Atlanta Contemporary, Henry Art Gallery, Portland Art Museum, University of Washington and at UC Berkeley as part of Shannon Jackson's Symposium, Curating People Symposium for the Artist Research Center.
Kennedy teaches Contemporary Art History at Portland State University for the BFA and MFA Studio Practice program and Social Practice MFA Program. From 2009 to 2014, Kennedy curated the PSU MFA Visiting Artist Program, founded the programs journal Studio. Kennedy is a Mentor at the Pacific Northwest College of Art since the founding of their MFA in Visual Studies program in 2006 and was recently a visiting scholar, curator for the MFA Performance Program at the School of the Art Institute of Chicago's Impact Festival.
Kennedy has been a juror, panelist and adviser for several national foundations and institutions including Creative Capital, Regional Arts and Culture Council, Museum of Art and Design, The New Foundation, The Brink Award, On the Boards, Headlands Center for the Arts, Southern Exposure / Alternative Exposure and On the Boards, Nohl Fellowship, Rauschenberg Foundation, LACE Exhibitions, Artist Pension Trust, Cannonball Arts, United States Artists, Museum of Art and Design Van Lier Fellowships, The Artists Trust, Art Innovator Awards and the Foundation for Contemporary Art. In 2012, Kennedy was invited by the Centre Pompidou and Gaite Lyrique to curate a program of experimental music and video from the Pacific Northwest which brought over 30 artists from Portland to perform and present at a regional festival which spanned from Paris to Metz and across three major Contemporary Art Centers.
ROYA AMIRSOLEYMANI, ARTISTIC DIRECTOR AND CURATOR OF PUBLIC ENGAGEMENT
roya@pica.org
503-242-1419 X18
Roya joined PICA in 2012, first as Community Engagement Manager, then as Director of Public Engagement, and now as Artistic Director & Curator of Public Engagement. She has grown PICA's public programming into a robust curatorial platform for education, access, participation, contextualization and critical inquiry through an expanded Time-Based Art Festival Institute (including a Guest Scholars and Writers arm), Field Guide to Dance audience engagement program, summer symposia series, socially engaged and participatory performance projects, and other initiatives that emphasize artist-audience connections and promote dialogue and exchange around contemporary art, culture, and politics. She has developed cross-cultural partnerships with local nonprofits, public schools, colleges and universities, and youth groups to broaden access to PICA's programs and diversify the organization's audienceship, leadership, civic role, community reach, and support for local artists, with particular attention to racial equity. She is co-director of PICA's Precipice Fund, part of the Andy Warhol Foundation for the Visual Arts' Regional Regranting Program, which makes grants to unincorporated, collaborative, visual art projects, programs, and spaces in the greater areas of Portland, Astoria, and Eugene, Oregon. With other program staff, she is integral to sustaining PICA's innovative Creative Exchange Lab artist residency program.
Roya is a founding member of Arts Workers for Equity (AWE), which advocates for racial equity in Portland's arts and culture sector through research, campaigns, and public programs. She has delivered papers and presentations and served as a lecturer and panelist at national conferences and convenings, including Common Field; Dance/USA; National Performance Network/Visual Art Network; Alliance of Artist Communities; Society of Dance History Scholars/Congress on Research in Dance; and UCLA's Thinking Gender. She has served on numerous grant and award selection panels, including MAP Fund; National Performance Network; ArtPlace America; Brink Award (Pacific NW); The New Foundation (Seattle); Kindling Fund (Portland, ME); Grit Fund (Baltimore); Platforms Fund (New Orleans); Performance Works NW (Portland, OR); and Oregon Arts Commission. Locally, she served on Metro's inaugural Community Placemaking Grants Advisory Council and the Jade & Midway Districts' Art Plan Steering Committee. She is an Adjunct Assistant Professor in the Art & Social Practice MFA Program at Portland State University, named one of the top 15 art schools nationally, she she has taught courses in Critical Art Theory, Contemporary Art History, Art & Politics, and Directed Studies.
Prior to PICA, Roya worked in galleries and produced freelance curatorial projects in San Francisco and Greater LA as well as Phoenix, where she was also a grant writer and education program manager for a women's foundation. She earned a B.A. in Contemporary Visual Culture & Gender Studies from the Johnston Center for Integrative Studies in California, and a Master's in Arts Management from the University of Oregon, concentrating in Community Arts with a thesis on planning for public participation and community engagement in contemporary feminist art programs.

To hear previous episodes of this show or any of our KBOO public affairs programming, just go to KBOO dot F-M or listen on iTunes, Google Play, or wherever you get your podcasts.
Joseph Gallivan has been a reporter since 1990. He has covered music for the London Independent, Technology for the New York Post, and arts and culture for the Portland Tribune, where he is currently the Business Reporter. He is the author of two novels, "Oi, Ref!" and "England All Over" which are available on Amazon.com
This show was recorded at KBOO on Aug.10, 2019 in Production 2.
Update Required
To play the media you will need to either update your browser to a recent version or update your
Flash plugin
.
Download audio file