Air date:
Tue, 07/02/2019 -

11:30am

to

12:00pm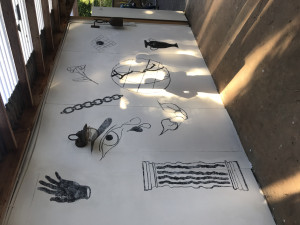 More Images:
Amanda Clem interviews Ashley Gifford and Lusi Lukova, cofounders of a brand new alternative gallery space to open in Portland called homebase.
On Tuesday July 2 at 11.30 a.m. Amanda Clem interviews Ashley Gifford and Lusi Lukova, cofounders of a brand new alternative gallery space to open in Portland called homebase.
 homebase is part gallery, part performance venue, and part backyard. With a primary focus on rotating mural and visual art exhibitions programming, homebase also aims to be a collaborative space for both portland and non-portland based artists, and existing arts organizations.
Named for our desire to foster a familiar and welcoming environment, a "home" away from home, homebase also hopes to serve as the literal home base point for future offshoot ventures supported by the gallery.
homebase gallery's inaugural exhibition, "I haven't forgotten anything despite how I pretend to" by Portland-based multimedia artist Katelyn Nicole Kilburg. The mural realized for this occasion on the wall immediately outside of the gallery expounds on Kilburg's own grapplings with memory and creative release. Here, the painted flowers stand as a humble offering in the act of devotion, as a tribute even to that which has gone. Undercurrents of greek lore flow through the work, highlighting the column, the amphora, calla lilies, and the greek eye which serve to tell stories both very old, and stories quite new and tender. 
The projection featured inside the exhibition space serves as a literal time lapse of the artist's musings, grief, and eventual acceptance of a time past. Filmed on 8mm during a trip to Greece where Kilburg heralds ancestral ties, the video is filled with a hopeful longing for something that just barely escapes her capture. The works presented as a whole wishes to lay bare the ways in which memory may be warped over time, and the subsequent emotional shift that naturally follows. As one wanders first past the mural to enter the exhibition space, the artist leads them through a visual mind map of her own experience with nostalgia. Additionally, viewers are encouraged to locate the clear balloons within the space of homebase and pop them for an unexpected surprise. Contrasting with the soft tones and feelings evoked by her work, the startling loud pop of the balloons reveal, tucked inside, snippets of Kilburg's written practice. Each clear balloon holds an ephemera of her intimate thoughts and motivations underlying the foundation of this exhibit. Should one take part in this ritual, one may find clues that something soft, almost raw, is typically still close beneath the surface. Ultimately, what we may come to realize is that the most freeing act of all may be to release, or pop, the careful care we put into nurturing certain memories. 
https://www.welcomehome.gallery/i-havent-forgotten-anything-despite-how-i-pretend-to
There is a zine release scheduled for July 6 which presents the artists poems-- for more information follow @home___base 
Update Required
To play the media you will need to either update your browser to a recent version or update your
Flash plugin
.
Download audio file