Air date:
Mon, 06/24/2019 -

11:00am

to

12:00pm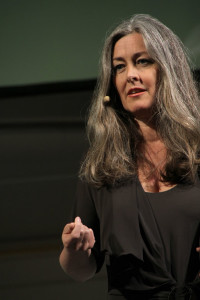 "Ecocide is a crime against the living natural world; ecosystem loss, damage or destruction is occurring every day." - Missing International Crime: Ecocide Crime, www.pollyhiggins.com

In this special edition of First Voices Radio, Host Tiokasin Ghosthorse speaks with award-winning author, barrister and ecocide law expert Polly Higgins for the entire hour (note that Polly passed away in April 2019).

Since stepping down from her legal practice as a court advocate Polly devoted her time to one client - Mother Earth. Internationally, Polly was the lead advocate for and expert on ecocide crime, the award-winning author of "Eradicating Ecocide: Laws and Governance to Prevent the Destruction of our Planet," creator of the first ever non-commercial global trust fund for Earth Protectors, generator of change-making Earth protecting laws, and a driving force behind the expansion of a rights-based narrative toward a duties and responsibilities based governance model.

Polly was the co-founder of the non-profit Ecological Defence Integrity, based in Stroud, UK. The organization was established in response to the recognition that new law for the Earth requires a far wider base of support than most governments will provide. Ecological Defence Integrity administers Mission Lifeforce, an unprecedented global funding platform created to fund ecocide law.

Polly has been hailed as one of the World's Top 10 Visionary Thinkers by the Ecologist and celebrated as The Planets Lawyer by the 2010 Change Awards. Founder of the Earth Law Alliance and The Earth Community Trust, she garnered a number of awards for her work advocating for a law of Ecocide. More about Polly can be found at www.pollyhiggins.com.