Air date:
Tue, 12/04/2018 -

11:30am

to

12:00pm
More Images: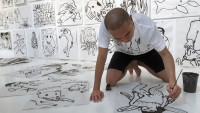 Joseph Gallivan interviews painter Ralph Pugay
On Tuesday December 4, 2018, Joseph Gallivan interviews painter Ralph Pugay [pron. poo-guy] about A Spiritual Guide to Brute Force, his show at Upfor Gallery now through December 22.  Pugay talks about the semiotics of his imagery, his learning the CMYK screen printing process, and his use of gestures relating to swimming and ecstatic dance when using ink on paper.
FROM THE PRESS RELEASE
November 1 – December 22, 2018
First Thursday art walk December 6, 6:00 to 8:00 pm (artist present)
Gallery hours Tuesday – Saturday, 11:00am to 6:00 pm and by appointment
THE WORK
After spending summer and early fall participating in four artist residencies across North America, Ralph Pugay returns for his second solo exhibition at Upfor. In addition to the vibrant paintings Pugay is known for, the exhibition includes limited-edition screen prints begun at Atelier Circulaire in Montreal, Canada, as well as a series of drawings created during his time at the Rauschenberg Residency at Captiva, Florida and the Joan Mitchell Center in New Orleans, Louisiana.
I have a crick in my back which sits directly behind my right scapula. It feels oddly like crumpled paper resting behind the bone. When I close my eyes and focus my attention on this area while breathing, I feel and hear a crackle, which creates a surge of electricity through my body, making my right arm flail in ripples involuntarily. It also progressively churns my stomach, turns my hip, and makes my mouth salivate, which is the most satisfying sensation of them all. If I focus on this method long enough, the crick and the crackles slowly move to my serratus anterior and continue on their journey to the slits of my ribs toward the sternum, which makes me feel like a walnut that is cracking over and over. Sometimes, my eyes water through this process; not because it is painful, but because it is overwhelmingly satisfying.
Burping also works for the purpose of relieving this crick. I have come to equate burping with the experience of coming to terms with the truth. I was not able to burp naturally until a moment when I was in the midst of avoiding an inevitable life transition a few years ago. The burps started out as quiet and progressively became more satisfying once I actually confronted what I was avoiding. It is interesting to hypothesize about the mix of matter and meaning that can settle in and come out to the surface from one's gut. Empty air could lead to a world of significance in this line of thought. I am interested in thinking about my work through this lens, where something as dull as excess gas can be a sign for something spiritual and transformative.
This exhibition includes drawings, paintings, and prints that I created while on residency at different locations in North America since the beginning of the summer. Being on residency gave me a lot of time to daydream, while also reflecting on the shifting weight of symbols that surrounds us in this current moment. The works on view in the exhibition depict narratives like a prisoner crying over dead fairies, cherubs flying out of a surgery patient's chest, dogs running towards Death, and many others, all of which come out of the desire to see something new in the familiar. In these works, I employ and combine ubiquitous cultural symbols with the language of fantasy, out of a desire to acknowledge feelings of longing to escape while also wanting to render a world that is more vibrant.
The ink drawings on view were often made after playing around in the pool at both the Rauschenberg and Joan Mitchell Center Residencies. Having followed the news obsessively every day, being in the pool gave me ample time to reflect and clear my mind. Swimming let me sit with my feelings while recognizing the boundaries of my body in relation to the weight of the water. Being in the pool – while not knowing how to swim very well – carried moments of both exhilaration and fear. It gave me a chance to physically move in unusual forms, and to experience time in different ways. The gestures one might use while swimming easily translated into the fluidity of ink drawing. In making them, I was drawn to making things that were simple, yet potent.
The thinness of newsprint allowed for inconsistencies in mark-making, producing an odd cast of characters infused with personality. Drawings were made on a pad, allowing ink to seep through to the sheets below, informing what would be drawn next. Each newsprint drawing in this set has in some way influenced the creation of the others. The disjointedness of this collection feels oddly reassuring when I consider the connection of each part to this process, along with the precarious quality of their delicate surfaces.
– Ralph Pugay
Ralph Pugay (b. 1983 in Cavite, Philippines) creates colorful, narrative paintings that juxtapose cultural norms and ideas. At once playful and unsettling, Pugay says, "A lot of them are of situations where there's perversity or something catastrophic happening, but I see them as allegories for general questions about consciousness and life."
Ralph Pugay holds an MFA in Contemporary Art Practice from Portland State University and is a residency graduate of the Skowhegan School of Painting and Sculpture in Maine. Notable solo exhibitions were held at the Seattle Art Museum, Upfor, Vox Populi and FAB Gallery (Richmond, VA), among others. Group exhibitions featuring Pugay's work include the Portland2014 Biennial, produced by Disjecta Contemporary Art Center; and the 2012 CoCA exhibition in Seattle. Formerly a visiting faculty member at Virginia Commonwealth University, he was recently appointed the James DePriest Visiting Professor of Art at Portland State University and is an instructor at the Conceptual Oregon Performance School. Pugay's honors include a Betty Bowen Award from the Seattle Art Museum, an Oregon Arts Commission Fellowship and a Joan Mitchell Foundation Painters and Sculptors Award.
Ralph Pugay recently completed a series of artist residencies at the School of the Art Institute of Chicago, Atelier Circulaire in Montreal, Rauschenberg Foundation at Captiva Island (funded by a Ford Family Foundation Rauschenberg Fellowship), and the Joan Mitchell Foundation in New Orleans.
Joseph Gallivan has been a reporter since 1990. He has covered music for the London Independent, Technology for the New York Post, and arts and culture for the Portland Tribune, where he is currently the Business Reporter. He is the author of two novels, "Oi, Ref!" and "England All Over" which are available on Amazon.com
This show was recorded at KBOO on Dec. 1, 2018 in Production 3.
Update Required
To play the media you will need to either update your browser to a recent version or update your
Flash plugin
.
Download audio file