More Images: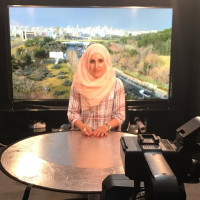 John Shuck speaks with Hanan Al-Zubaidy and Catherine Shakdam about his recent trip to Iraq for Arbaeen
Having just returned from Iraq for Arbaeen in which over 15 million people from all over the world converged on the Holy City of Karbala, John Shuck discusses his experience and the significance of the world's largest event with Iraqi refugee and Portland resident, Hanan Al-Zubaidy, and geo-political analyst from the U.K., Catherine Shakdam.  
Hanan Al-Zubaidy was instrumental in bringing the Ramadan Tent Project to the United States. Catherine Shakdam recently wrote a couple of articles about Arbaeen entitled, "Millions of Muslims, Over 60 Nations Gather to Reject Terror in Iraq" and "The Great March to Arbaeen." 
Arbaeen is the largest peaceful gathering on Earth and yet hardly anyone in the United States even knows about it. 
While in Iraq, John Shuck and photographer, Josh Townsley, were interviewed by Shabir TV, The Iraqi Media Network (starts 1:07),  and the Imam Hussein Shrine. 
--
Bios: 
Hanan Al-Zubaidy is an Iraqi refugee who moved to the United States with her family in the early 90's. Settling in Portland Oregon, Hanan is a recent graduate of Portland State University where she earned her masters in Educational Leadership and Policy. Focusing her work on marginalized populations, Hanan is currently volunteering with Larch Correctional Facility and sits on the board Human Rights Council of Washington County.
--
Catherine Shakdam is a geopolitical analyst and commentator for the Middle East with a special focus on Yemen and the Gulf countries, Catherine Shakdam has been published across several prominent media outlets including: The Huffington Post, Sputnik, Citizen Truth, Press TV, The New Eastern Outlook, RT, MintPress, Ayatollah Khameini's website, Open Democracy, the Foreign Policy Journal,  The Duran, The American Herald Tribune, Katehon, and many more. Catherine has been instrumental in breaking media silence over Yemen's war, and the tragedy which has befallen the impoverished nation. 
In 2015 she authored: Arabia's Rising – Under The Banner Of The First Imam.
In 2016 she authored A Tale Of Grand Resistance – Yemen, the Wahhabi, and the House of Saud and From Mecca to Karbala – Walking with the Holy household of the Prophet
-- 
This program can be heard worldwide via livestream on KBOO.fm. It airs Friday November 9th at 9:00 am PACIFIC, 8:00 pm ARABIA.
Update Required
To play the media you will need to either update your browser to a recent version or update your
Flash plugin
.
Download audio file