Air date:
Mon, 10/02/2017 - 12:00am
More Images: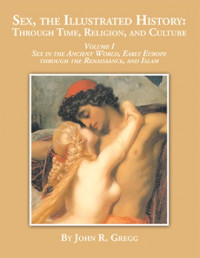 Author and scholar, John Gregg, offers a tour of sex through history and culture.
John R. Gregg is an historian, a writer, researcher, educator, and traveler. He has had a lifelong fascination for the beliefs and practices of peoples worldwide. He has taught World Civilization, Anthropology, American History, and Native American History and Culture, at the University of Florida, University of North Florida, and other universities. He has lived, worked and travelled extensively in Asia, and North and South America , studying religious and cultural practices throughout the world.
He is the author of Sex, the Illustrated History: Through Time, Religion and Culture, Volume 1.   This is from his website:
"Sex, The Illustrated History, Volume I, begins a daring exploration of human sexuality from the ancient to the modern world. Revealed are sexual practices and beliefs previously omitted or obscured from all historical telling. In a scathing condemnation of religion and its control of sex, John Gregg explores complex relationships between spirituality and sexuality. The supremacy of the mother goddess throughout most of human existence, and her relatively recent fall, is detailed in both word and image.
These pages share graphic erotic art works and explicit literary excerpts, painstakingly culled from the hidden treasure trove of cultures throughout history. Sex, The Illustrated History, traces sexual attitudes from the transcendent to the bizarre throughout the worlds' cultures. The often explicit illustrations are linked by historical and anthropological content, inviting the reader to experience sexuality through varied and often shocking cultural lenses. Over 300 images have been gathered by the author, in his travels and studies of world cultures. An encyclopedic tour of the sexuality of humankind!"
Update Required
To play the media you will need to either update your browser to a recent version or update your
Flash plugin
.
Download audio file