Air date:
Wed, 08/23/2017 -

9:00am

to

10:00am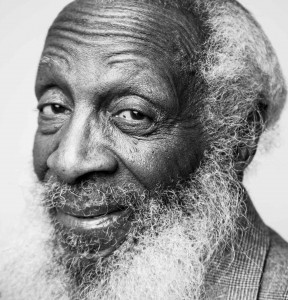 More Images: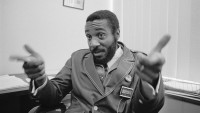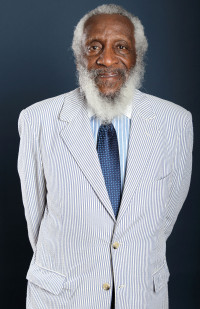 From Pacifica Radio Archives, recordings of Dick Gregory, honoring the life of the comedian and civil rights activist who broke barriers in the 1960s and became one of the first African-Americans to perform at white clubs. 

Gregory used satire and cool humor as a force for civil rights in the 1960s and devoted his life to speaking out on social justice and health. Gregory died on August 19. He was 84.

Gregory said, "Humor can no more find the solution to race problems than it can cure cancer." 

Nonetheless, he became a cross-over entertainer who reached both black and white audiences and, with humor, was able to generate deeper public understanding for the nations shameful racial history.

Dick Gregory sat on the Pacifica National Board at one time
Richard Claxton Gregory (October 12, 1932 – August 19, 2017) was an American civil rights activist, social critic, writer, entrepreneur, comedian, conspiracy theorist, and occasional actor. During the turbulent 1960s, Gregory became a pioneer in stand-up comedy for his "no-holds-barred" sets, in which he mocked bigotry and racism. He performed primarily to black audiences at segregated clubs until 1961, when he became the first black comedian to successfully cross over to white audiences, appearing on television and putting out comedy record albums.
Gregory was at the forefront of political activism in the 1960s, when he protested the Vietnam War and racial injustice. He was arrested multiple times and went on many hunger strikes. He later became a motivational speaker and author, primarily promoting spirituality.
Gregory began his career as a comedian while serving in the military in the mid-1950s. He served in the Army for a year and a half at Fort Hood in Texas, Fort Lee in Virginia, and Fort Smith in Arkansas. He was drafted in 1954 while attending Southern Illinois University. After being discharged in 1956, he returned to the university but did not receive a degree. He moved to Chicago with a desire to perform comedy professionally.[6]
In 1958, Gregory opened the Apex Club nightclub in Illinois. The club failed and landed Gregory in financial hardship. In 1959, Gregory landed a job as master of ceremonies at the Roberts Show Club.[7]
While working for the United States Postal Service during the daytime, Gregory performed as a comedian in small, primarily black-patronized nightclubs. He was one of the first black comedians to gain widespread acclaim while performing for white audiences. In an interview with The Huffington Post, Gregory described the history of black comics as limited: "Blacks could sing and dance in the white night clubs but weren't allowed to stand flat-footed and talk to white folks, which is what a comic does."
In 1961, Gregory was working at the black-owned Roberts Show Bar in Chicago when he was spotted by Hugh Hefner. Gregory was performing the following material before a largely white audience:
"Good evening, ladies and gentlemen. I understand there are a good many Southerners in the room tonight. I know the South very well. I spent twenty years there one night.

Last time I was down South I walked into this restaurant and this white waitress came up to me and said, "We don't serve colored people here." I said, "That's all right. I don't eat colored people. Bring me a whole fried chicken."

Then these three white boys came up to me and said, "Boy, we're giving you fair warning. Anything you do to that chicken, we're gonna do to you." So I put down my knife and fork, I picked up that chicken and I kissed it. Then I said, "Line up, boys!"
Gregory died of heart failure at a Washington, D.C. hospital at age 84 in August 2017
Update Required
To play the media you will need to either update your browser to a recent version or update your
Flash plugin
.
Download audio file