Air date:
Tue, 08/15/2017 -

11:30am

to

12:00pm
More Images: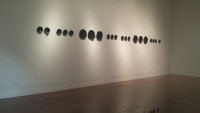 Joseph Gallivan interviews artists Drew Carson and Kate Simmons
On Tuesday, August 15, 2017, at 11.30am Joseph Gallivan interviews artists Drew Carson and Kate Simmons.
Carson is the co founder of Combat Paper, a traveling art project that takes military uniforms and turns them into paper for art works, from agit prop screen prints to paper mache M15s.Combat Paper is in Object Stories at the Portland Art Museum through August 27.
Simmons teaches art at Clackamas Community College, where her sculpture show "Slow Cooked" is showing now through Sept 1. The show explores the monotony of household tasks and converts it into different forms of power and beauty.   
From the press releases:
1. Combat Paper transforms military uniforms into handmade paper. We believe in this simple yet enduring premise that the plant fiber in rags can be transformed into paper. A uniform worn through military service carries with it stories and experiences that are deeply imbued in the woven threads. Creating paper and artwork from these fibers carries these same qualities. We have found that all of us are connected to the military in a myriad of ways. When these connections are discovered and shared it can open a deeper understanding between people and expand our collective beliefs about military service and war.
From the outset we have hosted open and ongoing workshops that facilitate the papermaking process and welcome the use of personal material for papermaking. The exchange between veterans and civilians is integral in our practice. A forum with its foundations in a collaborative art making process, we know that accentuating individual and group perspectives strengthens the workshops and allows for direct participation and engagement. Open community involvement is an active element for us, and working together is an asset. By creating paper together we both develop our own language in the art form and perpetuate an ancient craft.
The workshops have been well received across the country allowing us the support and flexibility to develop the scope of our work. We have maintained a collaborative atmosphere with an evolving group of facilitators, supporters, advocates and hosts. Currently we have four paper mill locations that are facilitating workshop programming with our mobile papermaking mills. In the studio we are producing editions of books, portfolios, large-scale paper sheet formation, sculptures, installations, individualized paper recipes, portraits and monoprints using an innovative paper printing technique. We invite you to learn more about the workshops upcoming events our locations and available artwork in our store.
Uniforms make paper.
https://portlandartmuseum.org/objectstories/combat-paper/
2.  'Slow Cooked: An Interior Monologue' opens at Clackamas Community College
OREGON CITY – Domestic tasks like washing dishes and folding towels are viewed through the artistic lens of Oregon-based artist Kate Simmons in her Clackamas Community College exhibition "Slow Cooked: An Interior Monologue."
Simmons, a longtime CCC instructor, explores the balance of her life as both a career-oriented woman and a homemaker. The exhibition includes three years of work in several media, including large-scale photographs, bronze works and mixed-media sculpture.  
"Slow Cooked: An Interior Monologue" runs Aug.7 through Sept. 1 in the Alexander Gallery on the Oregon City campus, 19600 Molalla Ave., Oregon City. The Alexander Gallery is open weekdays 9 a.m. to 5 p.m.
Simmons will talk about the evolution of her work and its contribution to her current exhibition Wednesday, Aug. 23, at 1 p.m. at the gallery. Admission to the gallery and talk are free and open to the public.This exhibition is made possible in part by a project grant from the Regional Arts and Culture Council.
Pamplin Media on Slow Cooked:
http://www.pamplinmediagroup.com/cr/24-news/367793-248852-ccc-art-instru...
http://www.clackamas.edu/about-us/news/2017/07/12/slow-cooked
Joseph Gallivan has been a reporter since 1990. He has covered music for the London Independent, Technology for the New York Post, and arts and culture for the Portland Tribune, where he is currently the Business Reporter. He is the author of two novels, "Oi, Ref!" and "England All Over" which are available on Amazon.com
This show was recorded at KBOO on August 11, 2017 in Studio 3.
Update Required
To play the media you will need to either update your browser to a recent version or update your
Flash plugin
.
Download audio file