Air date:
Mon, 05/29/2017 -

11:00am

to

11:30am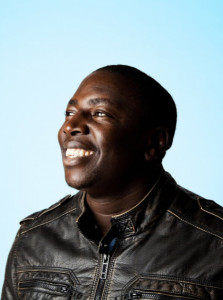 More Images:
Vieux Farka Toure visits the KBOO studio! He talks about how music chose him (rather than him choosing music) and that his music is his service to his country (he comes from a family of soldiers, traditionally. Except his extraordinarily gifted father, Ali Farka Toure, who broke this tradition). He also performs a couple of songs, "Samba Si Kairi" and "Bonheur".
Vieux was initially a drummer / calabash player at Mali's Institut National des Arts, but secretly began playing guitar in 2001. Ali Farka Touré was weakened with cancer when Vieux announced that he was going to record an album. Ali recorded a couple of tracks with him, and these recordings, which can be heard on Vieux's debut CD, were amongst his final ones. It has been said that the senior Touré played rough mixes of these songs when people visited him in his final days, at peace with, and proud of, his son's talent as a musician.
Following the release of a remix album, UFOs Over Bamako in 2008, and multiple tours, Vieux released his second studio album in May 2009.  Fondo peaked at #5 on Billboard's World Albums chart the week of 11 July 2009 and was included in the Village Voice's Top 100 list for 2009.
In June 2010, Vieux was invited to perform at the Opening Celebration of the 2010 FIFA World Cup; other performers included Shakira, Alicia Keys and K'naan. That month, Vieux also released his first live album, LIVE.
Vieux released his third studio album, The Secret, on May 24, 2011. The album was produced by Soulive guitarist Eric Krasno and features Dave Matthews, Derek Trucks, and John Scofield. It also features the last collaboration between Touré and his late father.  The album reached the #1 spot on CMJ's New World chart on 10 June 2011.
Vieux's album, Mon Pays, was released by Six Degrees Records on May 28, 2013. The title, French for 'My Country,' refers to his native Mali, and serves as a reminder of its beauty and culture, even in the midst of the territorial conflict between Tuareg and Islamic populations that have threatened it since January 2012.