Air date:
Wed, 04/05/2017 -

8:00am

to

9:00am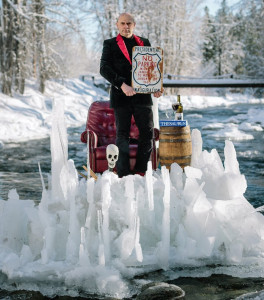 More Images:
Nobacon and his new group, the Axis of Dissent, have a new album coming out: "Stardust to Darwinstuff"
Pretty much anyone who was a punk or politically radical in the 80's/90's knows (or should know!) Chumbawamba (https://en.wikipedia.org/wiki/Chumbawamb), a punk anarchist musical collective that put out some of the edgiest and most musically adventurous political punk/pop/folk over a three-decade span. Nobacon was one of their three lead vocalists and very occasional keyboard player. Chumbawamba were at the forefront of the 1980s anarcho-punk movement, frequently playing benefit gigs in squats and small halls for causes such as animal rights, the anti-war movement, and community groups. The band's collective political views are often described as anarchist. They made several songs about the UK miners' strike, including the Common Ground cassette and a song dedicated to the pit village of Fitzwilliam, which was one of the worst cases of economic decline following the strike.
After leaving the group, Nobacon moved to Washington state and pursued his solo music career. More recently, he joined up with some other local musicians to form Axis of Dissent, who released a two-song CD last year "To Be or Not to Be," which Nobacon played at the Rock Against the TPP concert in Portland last August.
Their new album, "Stardust to Darwinstuff" is due out later this month, and we are pleased and honored to have him in our studio for the first date of the album promo. He'll be playing a gig this Friday at the Heretic House in Portland https://www.facebook.com/events/2010322455861798/.
There's a video of the title track of the new album on his youtube channel, here: https://www.youtube.com/channel/UCpI4UAWIXi-g12amihgqqjg
And this from his website http://danbertnobacon.com/home.html:
DANBERT NOBACON freak music legend author, artist, performer, former Chumbawambian, lives and works in, and out of, Twisp WA in the foothills of the Cascade Mountains in North Central Washington USA.
NEW SINGLE Revolution 9.01 (released January 19th 2017) in opposition to the coup d'etat that is the Trump government of the billionaires, by the billionaires, for the billionaires.
NEW ALBUM Stardust to Darwinstuff (release date April 21st 2017) exploring the consilience between art and science, and in opposition to Trump's war on art and science and in defense of common humanity and the planet.
Update Required
To play the media you will need to either update your browser to a recent version or update your
Flash plugin
.
Download audio file