Air date:
Tue, 11/22/2022 -

11:30am

to

12:00pm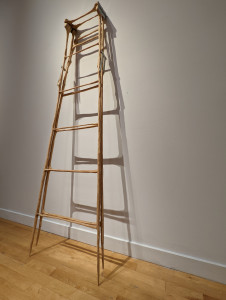 Hannah Bakken Morris, co-curator of the show, "Commonly Uncommon - Selections from the Museum of Contemporary Craft Collection"
On Tuesday, November 22, 2022, Joseph Gallivan interviews Hannah Bakken Morris, co-curator of the show, "Commonly Uncommon - Selections from the Museum of Contemporary Craft Collection" which runs now through Dec 10 at the Pacific Northwest College of Art. Bakken Morris talks about having access to the Craft Museum's collection, her process in selecting and juxtaposing objects, her idea that craft build community with face to face learning, and her observation that people coming out of the pandemic,  including young art students, are hungry to work with their hands after working digitally for so long.
This interview was recorded on November 17, 2022 on a H2n Zoom handheld recorder and engineered by KBOO volunteer Ray Bodwell. https://kboo.fm/blog/55224
From the press release:
https://pncaevents.willamette.edu/e/3172
Commonly Uncommon

Selections from the Museum of Contemporary Craft Collection
Co-curated by Hannah Bakken Morris, Sara Huston and Abby McGehee
Dates: November 3rd - December 10th
Location: Center for Contemporary Art & Culture Gallery, PNCA/Arlene and Harold Schnitzer Center for Art & Design – 511 NW Broadway, Portland, OR
Website: http://ccac.pnca.edu/
Contact: Hannah Bakken, Interim Director CCAC, hbakken@willamette.edu
Gallery Hours: Monday - Saturday, 10am - 4pm
Public Reception: Thursday, November 3 - 5-8pm
Film Viewing of Handmade Nation: Thursday, November 10 at 5pm, PNCA Mediateque
Panel Discussion: Thursday, November 17 at 6:30pm, PNCA Lemelson Innovation Studio (Portland, OR)
The Center for Contemporary Art & Culture at PNCA is pleased to announce Commonly Uncommon: Selections from the Museum of Contemporary Craft Collection, a three-part exhibition of objects and archives on view November 3 - December 10, 2022. Please join us for a public reception on Thursday, November 3 from 5-8-pm and join us in the following weeks of November for a panel discussion and film viewing.
Curatorial Statement
The Museum of Contemporary Craft served as a vital nexus for the consideration of art, craft and design in Portland from its founding in 1937 to its dissolution in 2016. The permanent collection and the institutional archives, under the stewardship of PNCA and Willamette University, remain important resources for these continued and ever-shifting conversations. This exhibition presents objects that illuminate issues of function, use, the nature of labor, and methods of production. Viewers can engage with both objects and archives to understand the way in which they inform one another as well as the multiple ways makers, curators and audiences appreciate and define an institution and its place in a regional artistic ecology.
A complimentary panel discussion about the collection, craft, and community-building will take place on Thursday, November 17, 2022 from 6:30-8pm at the Lemelson Design and Innovation Studio on the 1st Floor of PNCA. This discussion will be moderated by Namita Gupta Wiggers (past Curator for the Museum of Contemporary Craft) and will include exhibiting artists Hilary Pfiefer, Joe Feddersen, Charissa Brock and other exhibiting artists. This event is open to the public, free of charge.
Additionally, please join us a week earlier to attend a screening of Handmade Nation: The Rise of D.I.Y. Craft, Art and Design, a film made by exhibiting artist Faythe Levine, in the PNCA Mediateque on Thursday, November 10th at 5pm. This film is the culmination of nationwide research and interviews for which its archive will be displayed in the Dane Nelson and Ed Cauduro Collection Studies Lab at PNCA, as part of the Commonly Uncommon exhibition. This event is open to the public, free of charge.
The Museum of Contemporary Craft Collection and the Hallie Ford Museum of Art In June 2021, the Pacific Northwest College of Art merged with Willamette University making the Northwest's oldest school of art and design an integral part of the region's leading liberal arts university. Along with this exciting merger of institutions, the art collection from the former Museum of Contemporary Craft (which closed in 2016 as a program of PNCA) has become part of the permanent collection of the Hallie Ford Museum of Art at Willamette University.
Founded in 1937 as the Oregon Ceramics Studio, MoCC was the oldest continuously running craft institution in the country. Throughout the years, the name of the institution changed from the Oregon Ceramics Studio (1937), to Contemporary Crafts Gallery (1965), Contemporary Crafts Museum & Gallery (2002), and Museum of Contemporary Craft (2007). While the museum has now closed, the collection lives on as part of the Hallie Ford Museum of Art. The Hallie Ford Museum of Art has a long history of collecting, exhibiting, and publishing about artists associated with PNCA and the Museum Art School (as it once was known). HFMA has dedicated the past 25 years to building a collection and supporting scholarship that recognizes the importance of the art history of our region. With the addition of the former MoCC collection to its holdings, HFMA now expands its collection to include a world class collection of craft and design that has significant connections to the development of these art forms in the Northwest. HFMA is proud to be the steward of this collection.
This exhibition, curated by staff and faculty at PNCA with support from HFMA staff, is the first formal exhibition of the MoCC collection since 2017. Over the past 9 months, HFMA has been conducting a complete inventory of the collection with funds provided by the National Endowment for the Humanities. The museum will be engaged in strategic planning in 2023 and the vision for the future of the MoCC collection within the university and HFMA will be part of that process. We look forward to sharing more about this in the coming year.
Jonathan Bucci
The John Olbrantz Curator of Collections and Exhibitions
Hallie Ford Museum of Art
Curator Bios
Hannah Bakken Morris hails from Malheur County, OR and works interdisciplinarily by combining printed media with performance, sculpture, and installation to explore identity, the body, landscape, and place. Her works comment on land use in the United States and how the historical and contemporary narratives of the American West intersect with constructions of identity, economies, nationhood, and the environment. She received her BFA in Studio Art from Southern Oregon University in 2017 and her MFA in Print Media and MA in Critical Studies from the Pacific Northwest College of Art in 2020. Hannah currently is the Interim Director for the Center for Contemporary Art & Culture at PNCA and when not working she enjoys riding her bike, gardening, fly fishing, printing shirts and sewing bags in her small business with her husband and spending time with her pets Ed, Al, and Wallace.
Sara Huston is a craftsperson, designer, educator, and curator. Her studio, The Last Attempt at Greatness, is cross-disciplinary and engages design, craft, art, and architecture. Her practice explores rural life, ideas of progress, expectations, and value. Sara's work aims to provoke discourse and contemplation in the viewer or user in an attempt to disrupt conventional ways of thinking, induce reflection and challenge the boundaries of what is known. Huston is currently the Chair of the MFA in Applied Craft + Design at the Pacific Northwest College of Art in Portland, Oregon and the Lecturer Director at the Columbia Grange 267, a local agricultural learning and community center in Corbett, Oregon. In 2016 she was the visiting artist and full-time professor at The School of the Art Institute of Chicago in the Architecture, Interior Architecture and Designed Objects department and has taught at the University of Oregon, Marylhurst University, and Oregon College of Art and Craft along with serving as curator at White Box Visual Laboratory in Portland, Oregon.
Abby McGehee is an art historian and arts educator living in Portland, OR. For many years, she taught art history and was the department head of Liberal Arts at the Oregon College of Art and Craft. She was also a founding faculty member of the Applied Craft and Design program, originally shared by PNCA and OCAC. She is currently working on research projects related to the craft history of Portland. She holds a Ph.D in Art and Architectural history from the University of California, Berkeley.
About CCAC and PNCA:
The Center for Contemporary Art & Culture is a platform for cultural production including exhibition, lecture, performance, and publication. Housed within Pacific Northwest College of Art (PNCA), the Center throws open its doors to the greater public to foster conversation and community.
Pacific Northwest College of Art is the leading professional arts and design school in the Northwest; we are the heartbeat of learning and experimentation in Portland's vibrant cultural ecosystem. We spark curiosity and sharpen skills so students can build creative careers anchored in innovation, justice and civic imagination.
THE BIG ASK
Are you listening? 
KBOO Radio is a volunteer-run nonprofit, and it needs your money if you are listening. 
Go here to donate. https://secure.givelively.org/donate/the-kboo-foundation
To hear previous episodes of this show or any of our KBOO public affairs programming, just go to KBOO dot F-M or listen on iTunes, Google Play, or wherever you get your podcasts.
Joseph Gallivan has been a reporter since 1990. He has covered music for the London Independent, Technology for the New York Post, and arts and culture for the Portland Tribune, where he is currently a Feature Writer. He is the author of two novels, "Oi, Ref!" and "England All Over" which are available on Amazon.com
Update Required
To play the media you will need to either update your browser to a recent version or update your
Flash plugin
.
Download audio file