Air date:
Tue, 08/09/2022 -

11:30am

to

12:00pm
More Images: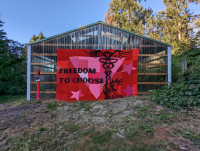 Merridawn Duckler and Alice Walker talk about Sighted Land
On Tuesday, August 9, 2022, Joseph Gallivan interviews artists Merridawn Duckler and Alice Christine Walker about Sighted Land, a land art show at an undisclosed location in North Portland. Duckler talks about her love of the great land art works of the west and how she came to curate something more modest on four acres of private land in North Portland. Walker walks through some of the pieces and comments on them.  
These interviews were recorded by Zoom video conferencing software and a Pixel 6 phone on August 5 and 8, 2022, engineered by KBOO volunteer Ray Bodwell. https://kboo.fm/blog/55224
From the press release:
Welcome to the land art show at Blackfish Gallery, the first one in Oregon. I confess it is
somewhat surprising there hasn't been one before this, given our famously strong PNW
attachment to the land. Like all attachments this is a complex web of ownership, reverence,
exploitation and responsibility. Discussions about the land, decisions about shared land come
from many voices: policy makers, activists, scientists, nature-lovers. I wanted to hear from the
artists. An important tenet of the early land art artists, and one that deserves to be remembered,
was that an artist's perspective on land and nature is primary. Nancy Holt said, "I am putting
"centers of the universe" wherever I go." Not as a perspective but as an aesthetic fact. Robert
Smithson dreamt of monuments to entropy. "Instead of causing us to remember the past like the
old monuments, the new monuments seem to cause us to forget the future." Nature is endlessly
reproducible and still we cannot duplicate it. Forget snowflakes, every printmaker knows no two
creations are exactly alike. "I planted rice, chained trees and buried my poetry without keeping a
copy," wrote Agnes Denes, in as good a description of artistic process as I've read. The works
you see here were made with intention, choices, values. They are all translations of thoughts into
objects presented often without judgement but always with vision. The world is our material. We
don't have to be reminded of our dependence on it. Artists move from mistake to mistake.
Sometimes we go back to square one and other times we are deeply pleased with the results.
There is no design flaw in a forest.
Merridawn Duckler
Curator
land art show at Blackfish Gallery
THE BIG ASK
Are you listening? 
KBOO Radio is a volunteer-run nonprofit, and it needs your money if you are listening. 
Go here to donate. https://secure.givelively.org/donate/the-kboo-foundation
It's like an old school version of smashing the like and sub buttons. 
To hear previous episodes of this show or any of our KBOO public affairs programming, just go to KBOO dot F-M or listen on iTunes, Google Play, or wherever you get your podcasts.
Joseph Gallivan has been a reporter since 1990. He has covered music for the London Independent, Technology for the New York Post, and arts and culture for the Portland Tribune, where he is currently a Feature Writer. He is the author of two novels, "Oi, Ref!" and "England All Over" which are available on Amazon.com
Update Required
To play the media you will need to either update your browser to a recent version or update your
Flash plugin
.
Download audio file