Air date:
Fri, 01/07/2022 -

10:30am

to

11:00am
More Images: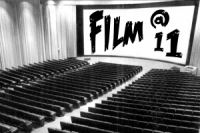 Welcome in 2022 with these reviews: Jeff Godsil on Tremors, Matthew of KBOO's Gremlin Time on Seven Days in May, a quick look at the recent The Unforgivable, Being the Ricardos, and Don't Look Up, and in the book corner, a new monograph on H. P. Lovecraft's Re-Animator. 
–------------------------------------------
Re-Animator 
Re-Animator is an intentionally poorly acted, elegantly crafted, and over the top science fiction and horror film from 1985 based loosely on an H. P. Lovecraft story. It was an almost instant cult film and influenced subsequent horror films that blended body horror with comic relief, including subsequent films by the director and cowriter, the late Stuart Gordon. Incidentally the film also has a Portland, Oregon, connection in that the film's romantic lead is played by one-time resident actor Bruce Abbott.
In its way, then, Re-animator is fertile ground for thinking about the role of horror cinema in America, both aesthetically and sociologically, and even politically. That's what Eddie Falvey does with the film in the latest monograph from the Devil's Advocate series published by Liverpool University Press. The thoroughness of his account is exemplified by the bibliography, which is a great place to start for those who want a deep dive into the significant changes in horror films from the mid -'80s to the present.
Among the topics covered are the role of horror in Ronald Reagan's American '80s and the critical reaction to it, a thumbnail sketch of the economics of Empire International Pictures which produced the film,  and misperceptions about the role of the so-called scream queen in low budget horror films. An important section concerns the interest in Lovecraft for adaptation, and the political complexities of that interest, given Lovecraft's private views. Also interesting is the role of Home Video and DVDs in keeping the legacy of Re-animator alive is also treated. 
The book also includes four helpful charts, the first tracking the series of Empire International Pictures horror films, one on the succession of horror films from 1985 on, a list of Lovecraft adaptations, and a break down of the way that Re-animator's legacy influenced many subsequent films.. 
Here's a summary by the author of why at least reading about Re-animator is important.
"Re-animator illustrates the formal development of the horror genre in many different ways, from the rise of gore effects to the emergence of reflexive (or meta-) horror- comedy. 
"Concerning the former, new appreciations of the formal qualities of the "highly disreputable" but "culturally significant" slasher sub-genre arose … These perspectives, though differently directed, demonstrate how horror studies is slowly opening out to account for the importance of body horror as well as its more cerebral (and, therefore, critically lauded) cousins. 
"Speaking to the former, there is a clear correspondence between Re-Animator's farcical homage to earlier horror traditions and the meta-horror represented by the likes of Scream just over a decade later. … It is evident in Re-Animator that, genealogically speaking, intertextuality or meta-horror precedes the 1990s turn towards postmodernism in horror and has its roots in earlier contexts of horror production. These works therefore demonstrate the potential and need for horror studies to avoid perpetuating the problems associated with critical elitism and canonisation and to regard horror in ways that account for its plurality and modes of reception.
"So, what is to be made of Re-Animator today, more than 35 years after its initial release? It is clear that the film continues to pervade horror discourse in multifaceted and multifarious ways. For many, Re-Animator remains a foundational text for horror fans that brings together various historical contexts, from the classic campiness of Universal's monster movies of the 1930s, to the slashers of the 1970s, the gore-horror films of the 1980s and the reflexive meta-horror films of the 1980s onwards. Its enduring impact has been marked by two sequels spread across a period of 18 years, a legacy in Lovecraft adaptation for its director and producer, an assortment of para-texts that include comics, a porn parody and a musical, cult stardom for two of its leads and even a citation in an Oscar-winning drama, American Beauty. Re-Animator's legacy, then, is clearly a complex thing that encompasses a range of formal, historical and theoretical contexts, as I have attempted to shed light on over the course of this book. Is Re-animator dead? Not so long as we, true to [mad scientist Herbert] West's form, collectively continue to give it life."
Update Required
To play the media you will need to either update your browser to a recent version or update your
Flash plugin
.