Air date:
Tue, 09/21/2021 -

11:30am

to

12:00pm
More Images: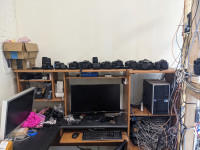 Joseph Gallivan interviews artist Julian Voss-Andreae
On Tuesday, Sept 21, 2021, at 11:30 a.m. Joseph Gallivan interviews artist Julian Voss-Andreae [PRONOUNCED Voss-andRAY] about his segmented sculptures of human forms which seem to disappear as you look at them from different angles. Voss-Andreae talks about trying to visualize quantum physics, emigrating from Germany to Portland and switching from being a scientist to a full-time artist. His work is visible around the US and can be see on the campus of the Southeast campus of Portland Community College, and on Hawthorne Boulevard. (Sorry about the sideways images, it's a bug in the KBOO content management system.)
Recorded at JVA's studio in Portland on a Zoom H2N recorder on Sept 11, 2021. Edited by KBOO volunteer Veris Schmidt.
From the website:
Julian Voss-Andreae, a German sculptor based in Portland Oregon, is widely known for his striking large-scale public and private commissions often blending figurative sculpture with scientific insights into the nature of reality. His sculptures are frequently shown at international art fairs and galleries and can be found in major collections in North America, Asia, Europe, Africa, and Australia. Voss-Andreae's work has been featured in print and broadcast media worldwide and videos of his sculpture have gone viral with tens of millions of views. Prior to his art career, Julian Voss-Andreae studied quantum physics and philosophy at the Universities of Berlin and Edinburgh and did his graduate research participating in a seminal experiment in foundational quantum physics at one of the world's most prestigious physics research labs at the University of Vienna. His expertise in diverse fields of science and a deep passion for the mysteries of quantum physics have been a continual source of inspiration for his work.
https://julianvossandreae.com/wp-content/uploads/2011/11/QuantumSculptur...
Video: https://youtu.be/ukukcQftowk
https://www.hohmann.art/voss-andreae?utm_term=julian%20voss-andreae&utm_campaign=Voss-Andreae&utm_source=adwords&utm_medium=ppc&hsa_tgt=kwd-360247461287&hsa_grp=123578552096&hsa_src=g&hsa_net=adwords&hsa_mt=b&hsa_ver=3&hsa_ad=525964021114&hsa_acc=5795793685&hsa_kw=julian%20voss-andreae&hsa_cam=13399269806&gclid=Cj0KCQjwnJaKBhDgARIsAHmvz6eO6IkHeOMHn0bGk4jhDvDmtdgJfnTkWdCOMvLnUHeueUNLmsLkcO0aAvkEEALw_wcB
AND ANOTHER ASK….
Are you listening? 
KBOO Radio is a volunteer-run nonprofit and it needs your money if you are listening. 
Go here to donate. https://secure.givelively.org/donate/the-kboo-foundation/2021-kboo-spring-membership-drive
It's like an old school version of smashing the like and sub buttons. 

To hear previous episodes of this show or any of our KBOO public affairs programming, just go to KBOO dot F-M or listen on iTunes, Google Play, or wherever you get your podcasts.
Joseph Gallivan has been a reporter since 1990. He has covered music for the London Independent, Technology for the New York Post, and arts and culture for the Portland Tribune, where he is currently the Business Reporter. He is the author of two novels, "Oi, Ref!" and "England All Over" which are available on Amazon.com
This show was recorded using a Pixel 5 at Capella Romana's office in the old Gus Solomon courthouse on August 20, 2021.
Update Required
To play the media you will need to either update your browser to a recent version or update your
Flash plugin
.
Download audio file