Air date:
Tue, 07/13/2021 -

11:30am

to

12:00pm
More Images: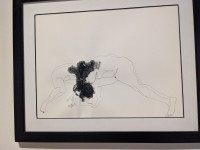 Blake Shell and Adam McIsaac of Oregon Contemporary
On Tuesday, July 13, 2021, at 11:30 a.m. Joseph Gallivan interviews Blake Shell and Adam McIsaac of Oregon Contemporary, the new name for what was Disjecta. McIsaac, a graphic designer and long-time board member, talks about the rebranding, while Shell, the artistic director, explains the new direction and talks through the current show, Time Being, which is up now until August 8, 2021. The show is by women artists and focuses on the figure. 
I apologize for the poor audio quality, Zoom for Windows crashed. When I restarted it I forgot to record the second half on Zoom, only on my phone. Part 2 sounds tinny because we switched to the backup audio.
This show was edited by KBOO volunteer Veris Schmidt.
FROM THE PRESS RELEASE:
https://www.oregoncontemporary.org/time-being
Time Being
Time being what it is. For the time being. What is a Time Being?
Stretched, lengthened, squished, time-looped, mediated, frozen, layered, and ever-changing—the figures and bodily parts in this exhibition reflect on humanity's relationship with time, history, and identity.
All of the artists in this exhibition do something strange with the figure. Somehow they make it weird, whether through exaggerations of scale or the flattening of time and space. Some pieces feel as if they could be moving forward, or backward, at any moment. Other works speak to our relationship with time itself, by reflecting on memories and stories and how we perceive our own histories and identities. Do these things shift continuously, or is there any permanence within our own selves? 
As we near an end to the pandemic, as we wrangle our lives back in some ways, we can't undo the fact of this past year. It remains inside us, inside our physical selves. The unusual experience of feeling unmoored from time and being physically separated from others, combined with mediated forms of communication, has made life feel unreal. We will carry that experience until it dissipates. As with any wound, eventually it will cease to exist, it will be reduced to a scar.  In the meantime, we need to reflect, to process, and to feel our way through the final part of this transition. Samantha Wall  said, "It just is, until it's not."  We can sink into despair or take solace, depending on the moment. 
Art Focus airs live at 11.30 am on Tuesdays and is archived to the KBOO website that evening. 
https://www.facebook.com/kbooartfocus
AND ANOTHER ASK….
Are you listening? 
KBOO Radio is a volunteer-run nonprofit and it needs your money if you are listening. 
Go here to donate. https://secure.givelively.org/donate/the-kboo-foundation/2021-kboo-spring-membership-drive
It's like an old school version of smashing the like and sub buttons. 

To hear previous episodes of this show or any of our KBOO public affairs programming, just go to KBOO dot F-M or listen on iTunes, Google Play, or wherever you get your podcasts.
Joseph Gallivan has been a reporter since 1990. He has covered music for the London Independent, Technology for the New York Post, and arts and culture for the Portland Tribune, where he is currently the Business Reporter. He is the author of two novels, "Oi, Ref!" and "England All Over" which are available on Amazon.com
This show was recorded by Zoom videoconferencing software on July 6, 2021.
Update Required
To play the media you will need to either update your browser to a recent version or update your
Flash plugin
.
Download audio file