Air date:
Tue, 04/06/2021 -

11:30am

to

12:00pm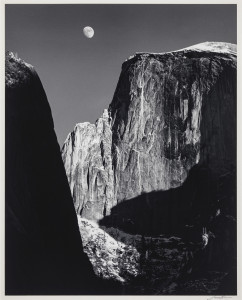 Joseph Gallivan interviews Julia Dolan, the curator of Photography at the Portland Art Museum, about the upcoming show Ansel Adams In Our Time
On Tuesday, April 6, 2021 at 11:30 a.m. Joseph Gallivan interviews Julia Dolan, the curator of Photography at the Portland Art Museum, about the upcoming show Ansel Adams In Our Time. Dolan talks about Adams's beginnings as a teenage tourist in Yosemite, his gradual progression from pictoral style to a more abstract and minimal landscape style, and some of the artists before and after him who put his work in context.  
The Portland art museum reopens on a timed ticket basis to the general public on April 10.  Ansel Adams in Our Time opens to members on April 28 and to the general public on May 5, 2021. It closes August 1 2021.
FROM THE PRESS RELEASE
Ansel Adams in Our Time
May 5, 2021 – Aug 1, 2021
Ansel Adams in Our Time, making its only West Coast stop at the Portland Art Museum, celebrates the remarkable artistry and visual legacy of the acclaimed American landscape photographer and educator. More than 100 photographs by Adams, from his earliest marketed prints to his world-renowned Western vistas, trace the artist's development and maturation over five decades while pointing to his continuing influence on landscape photography today. Eighty images by artists working both before and after Adams, interspersed among his vintage prints, provide a deeper perspective on themes central to his practice, demonstrate the power of his legacy, and will spark critical conversations about the state of the American landscape in the 21st century. Organized by the Museum of Fine Arts, Boston, and curated by Karen Haas, the MFA's Lane Senior Curator of Photographs, Ansel Adams in Our Time draws from the outstanding Lane Collection of more than 6,000 American modernist photographs, works on paper, and paintings. Deeply thoughtful and dedicated collectors, Saundra and the late William Lane forged a long-term relationship with Adams, over time acquiring 450 of his photographs. The Lane collection includes many iconic works such as Clearing Winter Storm, Yosemite National Park (ca. 1937), as well as a range of quieter but no less impactful photographs like Grass and Burned Stump, Sierra Nevada, California (1958).
Ansel Adams in Our Time demonstrates the artist's embrace of the American landscape as a singular yet remarkably wide-ranging photographic subject. The exhibition's seven thematic sections chart his influences, his own artistic development and creative range, and the many ways that photographers frame the landscape today. Highlights include Adams's early pictorialist works of the Yosemite Valley, emerging modernist views of San Francisco and the American Southwest, and mature photographic celebrations of national parklands including Yellowstone in Wyoming, Glacier Bay National Monument in Alaska, and Hawaii National Park. Photographs by contemporary artists Jonathan Calm, Zig Jackson, and Will Wilson question concepts of land ownership and belonging in the American West, while Binh Danh, Abelardo Morell, and Catherine Opie point to the continued fascination with and documentation of the nation's national parks.
Although he produced glorious views, Adams did not turn away from the more troubling aspects of land use and the threat of environmental destruction. He documented drought conditions and ghost towns, and even experiences of interned Japanese Americans at the Manzanar War Relocation Center during World War II. Indeed, Adams's magnificent landscape photographs push beyond the visual pleasure that the terrain provides, exposing realities that continue to resonate deeply today. Similarly, works by contemporary artists including Laura McPhee, Trevor Paglen, Wendy Red Star, and Bryan Schutmaat demonstrate photography's critical role in documenting both the environmental promise and crises facing the American West today.
Throughout the run of the exhibition, a wide range of programming relating to themes explored in Ansel Adams in Our Time will take place primarily online. From a discussion about Adams's early career with Rebecca A. Senf, Ph.D., author of the new book Making A Photographer: The Early Work of Ansel Adams, to talks and webinars that address access, environmental concerns, and racism in the American landscape, audiences near to and far from Portland will be able to engage with Adams and his legacy during this critical time in our nation's history.
Organized by the Museum Fine Arts, Boston, and curated for Portland by Julia Dolan, Ph.D., The Minor White Curator of Photography.
Art Focus airs live at 11.30 am on Tuesdays and is archived to the KBOO website that evening.
See more at
https://kboo.fm/program/art-focus
https://www.facebook.com/kbooartfocus
GUEST CONTACT INFORMATION

To hear previous episodes of this show or any of our KBOO public affairs programming, just go to KBOO.FM or listen on iTunes, Google Play, or wherever you get your podcasts.
Joseph Gallivan has been a reporter since 1990. He has covered music for the London Independent, Technology for the New York Post, and arts and culture for the Portland Tribune, where he is currently the Business Reporter. He is the author of two novels, "Oi, Ref!" and "England All Over" which are available on Amazon.com
This show was recorded on Zoom video conferencing software in Portland on April 1, 2021.
Update Required
To play the media you will need to either update your browser to a recent version or update your
Flash plugin
.
Download audio file