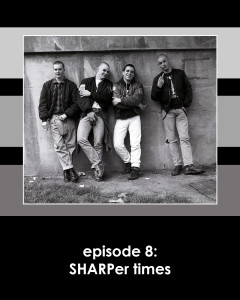 In this episode we hear from the former SkinHeads Against Racial Prejudice.  SHARPs share their experiences on how they came to hold the front lines in the fight against neo-Nazi violence on the streets of Portland.
Featured in this episode are interviews with former SHARPs Michael Clark, Pete Little and Jon Bair; former punks Chyna and Jorin; IDHH narrator Mic Crenshaw; music journalist Patrick Mazza; former CHD activists and researchers Jonathan Mozzochi, M Treloar and Steven Gardiner; and the Reverend Cecil Prescod.
Producers: Celina Flores, Erin Yanke, Mic Crenshaw
Editors: Erin Yanke and Icky A.
Interviews for this episode:  Celina Flores, Mic Crenshaw, Barbara Bernstein, and Erin Yanke
Story editors: Celina Flores, Erin Yanke, Icky A., Mic Crenshaw, Moe Bowstern
Visual archivist: Julie Perini
Thanks to: Pan, Pete Deegan
Mastering: Colin Casserd
Music:
The Fucked Up Beat (Free Music Archive)
Miku (Free Music Archive)
LG17 (Free Music Archive)
Update Required
To play the media you will need to either update your browser to a recent version or update your
Flash plugin
.
Download audio file