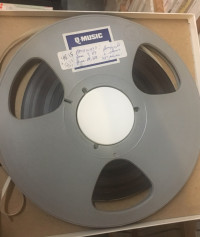 Published date:
Thursday, April 18, 2019 - 2:01pm
Reunite with old news and public affairs programming here at KBOO!
Please join us on Saturday, April 27th, 2019 to reminisce with current & past volunteers while we add missing information to the KBOO archives memory bank! We'll be here working on the archive from 10am to 4pm. This event is open to the public. there will be snacks!
We need KBOO former volunteers, current volunteers and listeners to identify content and programs of our historical archive. We'll be dealing with old audio, program guides, and more!
We're meeting at KBOO, 20 SE 8th Avenue.
If you have questions, contact KBOO Archivist Marti Clemmons at marti@kboo.org
If you can't make it, but are interested in helping with the Archives, contact Marti!