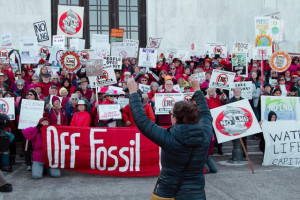 Published date:
Monday, April 12, 2021 - 2:04pm
Produced for (Program name):
Thursday, April 22 from 6 – 7 pm
For two decades communities across the Pacific Northwest have been inundated with proposals to build mega coal, oil and fracked gas terminals and pipelines from Coos Bay to the Salish Sea. And for two decades these communities have risen up to stop these projects. Now most of these projects have been canceled and the rest are in the throes death rattles.

This Earth Day, April 22, as part of our Spring Pledge Drive, KBOO presented a webinar celebrating the Northwest's incredible resistance to becoming a fossil fuel export hub. Celebrating the Thin Green Line features key actors in creating what Eric de Place with Sightline Institute, has dubbed the Thin Green Line. We hear how these victories were won and what are the remaining challenges lying ahead. The webinar features Eric de Place, along with Jay Julius with the Lummi Nation; Klamath-Moduc artist and activist Ka'ila Farrell Smith; Longview, Washington activist Diane Dick; Elijah Cetas with the Braided River Campaign in Portland and Claudia Riedener with Redefine Tacoma. The webinar is moderated by Locus Focus host Barbara Bernstein.