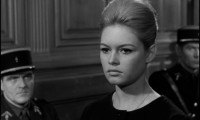 Published date:
Thursday, April 4, 2019 - 2:18pm
Produced for (Program name):
Le veritée offered Brigitte Bardot Bardot one of her best performances
Henri-Georges Clouzot wasn't so easy to get along with but he often brought out the best in his actors (Jeanne Moreau, Yves Montand), and especially from Brigitte Bardot, in his film La vérité from 1960. In the form of a courtroom murder case,  La vérité is at root one of those "what's wrong with the kids" films so prevalent in the 1950s, from Blackboard Jungle to Rebel Without a Cause. Europe got in to the act as well, and even the supposedly austere Antonioni made one (I vinti, from 1953). 
Here, Bardot is Dominique Marceau, who wants to go to Paris because her provincial town is boring. She arrives there on the coattails of her musician sister (Marie-José Nat) and proceeds to mess up her sibling's life, lets a prospective conductor (Sami Frey) fall in love with her, and ends up on the stand because of various complications that life throws at her, along with her seeming self-destructive tendencies (she seems to attempt screen suicide about every 15  minutes). The Lords and Ladies of the court decry her for her selfishness and lack of values rather than try to understand her, and even her own attorney (Charles Vanel, from To Catch a Thief) doesn't like her much. On the one hand, Clouzot squeezes comedy out of the courtroom scenes as the crowd expresses gasping shock at her antics (like the audience in Anatomy of a Murder), but when in the flashbacks he follows Dominique into her daily life, he creates a vibrant if easily bored world of students, layabouts, hustlers, and toughs, all hanging about the coffee shops dreaming of the novels they will write and waiting for someone to buy them a drink. It's a world that would have been familiar to the nouvelle vague directors who lived in such places throughout the '50s and set a lot of scenes set in these cafés, with their smudged tile floors and noisy pinball machines, in  the movies they were starting to make at the time of this film's release. 
This is a fun movie that suggests why B.B., as she was know (it sounds sort of like BaBY),  was so popular, with Simone de Beauvoir writing Brigitte Bardot and The Lolita Syndrome, a book about the very idea of her ("One is not born, but rather becomes, a woman"), and with Pauline Kael hating the very idea of her (Ms Kael thought that audiences felt sorry for her and wanted to "tidy her up"), and here Bardot is exquisitely photographed by Clouzot's  regular DP Armand Thirard. It's also a musical film, but the music that means something to these kids is classical, including Stravinsky's L'oiseau de feu, J.S. Bach,  Jean Bonal, and others.
As usual with Criterion there are supplements, though not as many as there used to be.  Le scandale Clouzot  is a 60-minute documentary that pretty much summarizes the ups and downs of his career,  while a TV interview Clouzot from November 11, 1960 gives his side of the story. Brigitte Bardot discusses how she fared on the set in a 20-minute segment from a 1982 documentary. Finally there is a foldout insert with cast and crew, transfer information, and an essay about Clouzot,  Bardot, and the film by the highly informative scholar Ginette Vincendeau.
A real  gem of a film, La vérité (Criterion Collection No. 960, with a new 4K restoration, uncompressed monaural soundtrack on the Blu-ray, France, 1960 128 minutes,  black & white, 1.66:1, in French with new subtitles, 1 Disc, $31.96,) was released on Tuesday, 12 Feb., 2019.