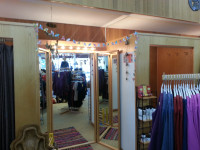 Published date:
Friday, August 12, 2016 - 11:30am
Gazelle Natural Fibre Clothing offers women's clothing, jewelry, scarves, hats, belts, socks, tights, and other accessories. They also carry a unique selection of artistic gift items, locally made, and fair trade handicrafts from around the world.
A stalwart supporter of KBOO, Gazelle Natural Fibre Clothing has been delighting shoppers seeking clothing made from natural fabrics for decades.  Recently I was able to catch up with co-owner Byron Ady to learn more.
JM: How long has Gazelle been in business?

BA: Gazelle opened in 1984, in the New Market Village by Saturday Market. We opened our current location at NE 41st & Fremont St in 1996, and soon after closed the downtown location, and consolidated into the Fremont store.

JM: While today the importance of natural fabrics is a given to most, at the
time this was not necessarily the case.  Was this a gamble?

BA: I think it was a vision by Robin, that this was a market segment that was poised to take off. This has proven to be true. We knew we were early, being an exclusively Natural Fiber Clothing store, but never doubted from the start, that there were a lot of people waiting to find a resource like Gazelle. Especially in Portland!

JM: What made natural fabrics important to you?

BA: Having worn them, and sought them out ourselves, and seeing how hit or miss it was, in the current market, trying to find 100% natural fiber garments. It's a comfort issue really. Synthetic fabrics don't breathe well, and carry static electricity.

JM: How has the industry changed since then?

BA: The wholesale market has really embraced natural fabrics, and there have been improvements in thread technology, that make natural fabrics easier to care for. With natural fiber clothing finding it's way into the "big box" retailers, we have had to become more unique, and focus on quality. There is still plenty of clothing out there that you will only find at smaller boutique retailers like Gazelle.

We think that the next big industry change will be the use of Hemp for clothing. It is a wonderful fabric to wear, and is environmentally friendly, but has been prohibitively expensive. We look forward to that changing, as it becomes more available, and the silly hysteria about its association with pot smoking seems to finally be going away.

JM: How do you source your products?

BA: We buy at wholesale apparel markets. We try to find domestically produced where possible, and fair trade products when we buy from an overseas manufacturer.

JM: You don't sell your products online.  That's unusual in this day and age.
How did you come to this decision?

BA: The best way to find clothing that is really great on you, is to try it on in person, and lots of it, so that when you put something on and say "WOW" that's great, you know you have a winner. It also helps to have someone experienced direct you to the colors, and styles that will work well for you. That's an experience you just can't replicate online.

Gazelle is as much about community building, as well, as it is about selling clothing. We enjoy being a part of why this is a nice place to live, and locally owned small businesses are a huge part of creating that environment.

JM: What else should we know about Gazelle?

BA: Gazelle is a local woman's Natural Fiber Clothing store. Owned and operated by women.
Gazelle is about Love, Joy, Energy, and feeling good about yourself!
Gazelle Natural Fibre Clothing
4100 NE Fremont St.
Portland, OR  97212
503/288-3422
Thank you to all our underwriters.  Become an underwriter or see a complete list of our business partners by following the links below: