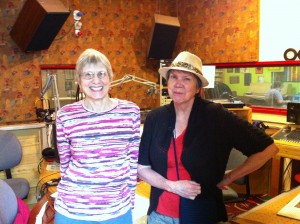 A little more about three new shows that were recently added to KBOO's weekday morning line-up
Three new monthly shows were recently added to the KBOO Morning News and Public Affairs Line up.
Voices for the Animals
promotes an increased awareness and appreciation for the animals in our homes and our environment, informing listeners about the challenges facing both domesticated pets and free-roaming wildlife. Hosts
Dab Steadman
and
Courtney Scott
will explore resources and remedies. They hope to inspire positive action and be a catalyst connecting people to local programs. It airs on the fourth Monday of the month at 11:30AM. 
http://kboo.fm/takingabiteoutofanimalcrime
Intersections Radio
starts from an Asian Pacific American perspective, and aims to connect communities through unique and unexpected stories. Host
Sarika Mehta
(pictured below at left) has always wanted to collect these kinds of stories after a collective career working with linguistic minorities: from her early days in Bilingual Education to her current days as a Sign Language Interpreter. July 26th of this year marks the 25th anniversary of the Americans with Disabilities Act (1990), and Intersections is celebrating by showcasing the experiences of people of color with disabilities. This month the show aired on the first Friday of July at 9AM, but the permanent time of the show will be the first Friday of the month at 11AM. 
http://kboo.fm/intersectionsradio
Democracy in Motion
features interviews with elected officials talking about their work and answering tough questions about issues, with an opportunity for listeners to call in and ask questions. Longtime KBOO programmer
Lisa Loving
 (below at right) hosts this show on the second Friday of the month at 9AM. 
http://kboo.fm/democracyinmotion
Please take a listen to these new thoughtful and thought-provoking programs.