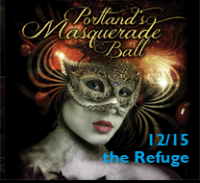 "One night, to unmask the passion within us all"
KBOO is a proud sponsor of the Portland Masquerade Ball, December 15 at the Refuge
Welcome
Prepare to have fun
The 3rd annual Portland's Masquerade Ball
One night, to unmask the passion within us all
The Portland Masquerade Ball, which is in its 3rd year, is an epicenter for artists, bands, performers, dj's, hoopers, producers, dancers, and like minded individuals to come together for an epic night of art, music, and shenanigans. Each year this event grows exponentially, with last year selling out at 1,100 people and March 4th Marching Band headlining.
This year's entertainment includes:
::BLACKALICIOUS:: (LIVE)
With a hip-hop career that has stretched past a decade, Blackalicious has earned respect the old-fashioned way–rising through honesty, commitment, and artistry. Blackalicious is an American hip-hop duo from Sacramento, California made up of rapper Gift of Gab (born Tim Parker) and DJ/producer Chief Xcel (born Xavier Mosley). They are noted for Gift of Gab's often "tongue-twisting", multisyllabic, complex rhymes and Chief Xcel's "classic" beats.
www.Blackalicious.com
::Love And Light::
Comprised of the musical talents of Matt Madonna and Ryan Anderson, Love and Light hails from the high desert region of the Reno/Tahoe Basin. Creating music that will touch your heart and elevate your soul, the duo's primary focus is the uplifiting of people across the world through pure intention, melodic synth lines, complex chord structure, intricate rhythms, and funky, chunky bass lines.
www.LoveAndLightMusic.com
::Just People::
JUST PEOPLE are the dedicated offspring of a generation of movers and shakers. Take the eloquence of Bob Dylan, mixed with the sheer power of Led Zeppelin, add a dash of The Beatles and for a nice after taste throw in some Talking Heads. The result is best described by Darcy Wallace of the Oregon Voice: "JUST PEOPLE are tough to pin down, but damn it, it just sounds so good."
www.JustPeopleMusic.com
::Marv Ellis::
One of the premier hip-hop acts in the NW, Marv Ellis is the quintessential show man and entertainer. He laces intelligent, well crafted lyrics with fresh beats to create a musical landscape that will activate your body and mind.
www.MarvEllis.com
::Mr. Wu::
Mr. Wu is a DJ, designer, promoter, screen printer, ninja holding it down on the Westcoast. Whether shaking dance floors or making mixtapes, Mr. Wu's multi-genre DJ sets are sure to take the listener on a sonic journey. Find him mixing music or slingin' Rythmatix clothing all over Oregon and beyond.
www.soundcloud.com/Mr.Wu
::PRSN::
www.soundcloud.com/brycelowell
With Special Guests:
Stilt Walkers and Ambiant Performers:
Jpeace Love Circus
Jilliana
Morgan Goldberg
Randy Schless
Hula Hoopers
Aerialists
Face Painters
ShadowPlay: A new performance moment incorporating LED lights and silhouette dancing, within a custom built shadowbox.
Professional bellydancing by Bridgetown Revue: www.bridgetownrevue.net
We are proud to announce that this years Masquerade Ball is a benefit for the Raphael House, a NPO that has been fighting domestic violence in PDX since 1977. For more information check out www.raphaelhouse.com
Masquerade Ball attire is strongly recommended!
Dress to Impress!