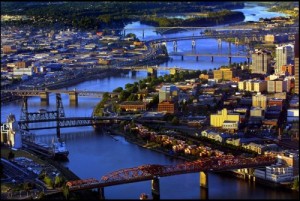 KBOO is a proud co-sponsor of the PDX Bridge Festival
KBOO will be broadcasting live on 7/31 from 4-9PM tune in for some great local music.
PDX Bridge Festival 2010
July 23 – August 8
Festival Events & Information
Radiating like spokes from downtown Portland, the ten bridges that span the Willamette River are central to regional identity, tying the geography and cultures of Portland into a vibrant whole. Beginning with the Hawthorne Bridge Centennial in 2010—followed closely by the Broadway Bridge (2012) and the Steel Bridge (2013) Centennials—we are excited to introduce the PDX Bridge Festival as an annual, citywide cultural arts festival that celebrates the Willamette River Bridges while harnessing the power of Portland's creative capacity.
The PDX Bridge Festival will reinvent the bridges as a staging grounds for individual works of art and performance. While showcasing the convergence of industrial design and artistic endeavor, and presenting a diverse program of gallery exhibitions, speakers, musical events and performance, we will create a valuable cultural tourist destination in the heart of Portland. Drawing large numbers of visitors and residents to this event, our goal is to bring people together in a spirit of civic pride, aesthetic wonder, and community engagement. In short, PDX Bridge Festival would treat the bridges as a canvas upon which we can tell the story of Portland—who we are, where we come from, where we are going, and how we choose to express the culture of our great city.