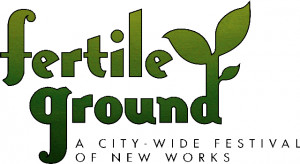 KBOO is a proud media sponsor for the 2012 Fertile Ground Festival
Fertile Ground's fourth year shows abundant growth for Portland creative prowess!
  More than 80 New Works
Theatre, Comedy, Dance, Animation, Events
50 Producers, 38+ Venues
…and, as always, growing…
 When: January 19th-29th, 2012

Single tickets for all festival events are purchased directly through the producing companies. All access Festival Passes sell for only $50 and are available on the Fertile Ground website. Festival "Dig It!" buttons and Festival Guides are available for free at various theater lobbies throughout Portland, button-wearers are offered discounts at the door to select performances. Production descriptions, locations, times and ticket information vary; see festival website for details: www.fertilegroundpdx.org. 
In its fourth year, the Portland-grown Fertile Ground City-Wide Festival of New Work continues to flourish planted in a town of prolific playwrights, abundant actors, innovative dancers, talented designers and adventuresome producers. 
From 17 fully produced theatrical world premieres, to 14 dance world premieres, to a myriad of workshop productions, staged readings, readings and events at all times of the day, Fertile Ground will be thriving on stages, nooks and crannies all over Portland for 10 days from January 19 to 29, 2011. 
Shining out through the winter darkness, Fertile Ground offers an astonishing breadth of creative work for the stage, compressed into 10 of the darkest and wettest days of the Portland calendar. Close to every single major theatre company and many dance companies in town are participating, presenting new work as a world premiere or as a piece in development. In addition to seasoned producers, dozens of local small producers, playwrights and choreographers are also choosing to offer their work for this collaborative Portland showcase festival. Added this year is a new short film animation component. 
What Makes Fertile Ground Unique. Several theatre companies across the nation host "new works festivals" and nearly all of these festivals present "staged readings," works-in-progress curated by the artistic aesthetic of one company's artistic staff. They are also typically exclusive to genre. In contrast, the Fertile Ground Festival presents a non-curated collection of fully staged world premiere productions in theatre and dance, as well as workshop and staged reading productions, and more. Fertile Ground is about process as well as product in creative development. This festival is the collaborative work of our local artistic community expressing the mother lode of creative capacities, in a quintessentially Portland manner. 
The Fertile Ground Festival of New Work is presented by the Portland Area Theatre Alliance. The festival organizers are comprised of volunteers who strongly believe in showcasing Portland's vibrant creativity.
Fertile Ground was launched by the Portland Area Theatre Alliance (the service organization for Portland theatre artists and organizations) in 2009 to provide a platform for Portland theatre companies to showcase their commitment to new work, but the Festival has grown to embrace many forms of new works in art allowing Portland's arts lovers to discover Portland's truly fertile ground for creativity, innovation and daring acts of performance. 
 
For detailed information visit www.fertilegroundpdx.org after 2012 Festival Line-up public announcement December 1.