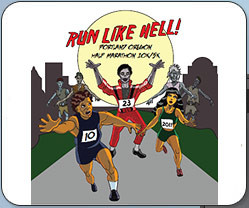 run like hell terrapin events
KBOO is a proud media partner for Terrapin Event's Run Like Hell 2011
When: Saturday October 23rd, 2011
CHECK OUT THE 2011 RUN LIKE HELL VIP EXPERIENCE!
FIND OUT MORE HERE!
ABOUT THE 2011 RUN LIKE HELL:
Run Like Hell is a Halloween-themed race that sees participants dress out in full costume for a run through Portland's urban parks and along its waterfront areas along the Willamette River. Now a running tradition in Portland, the race celebrates its 10th annual running in 2011.
Last year, more than 5,000 runners and walkers crossed the finish line in all three races at the Fall running of Portland's Run Like Hell Half Marathon, 10K & 5K. Most were dressed in Alice in Wonderland costume as last year was the first year we did a themed event, and it was awesome! If you would like to see some photos click here.

This year, our theme is "zombies" or "undead". We will still have the contest for all the other great costumes, but how cool would it be to see over 5000 zombies running! Ummmmm BRAINS!

THERE IS A 3 1/2 HR LIMIT ON THE 1/2 MARATHON.

THERE ARE FINISHER MEDALS FOR ALL HALF MARATHON FINISHERS.
LOCATION:
Near the World Trade Center in downtown Portland

START TIMES:
Doors open at 6:30am
Half Marathon Run / Walk 7:30am
Kid's Half Miler 8:00am
10k Run / Walk 8:20am
5k Run / Walk 9:00am
PACKET PICKUP:
THERE IS NO DAY OF RACE REGISTRATION OR PACKET PICKUP FOR THIS EVENT! All participants must attend our 2011 Sports and Fitness Expo at the Embassy Suites in downtown Portland to receive their race packet.

THE RLH SPORTS AND FITNESS FESTVAL IS FREE FOR ALL TO ATTEND
EXPO LOCATION:
LOCATED IN THE COLONEL LINDBERGH BALLROOM AT THE EMBASSY SUITES IN DOWNTOWN PORTLAND. EMBASSY SUITES IS LOCATED AT 319 SW PINE ST.

EXPO DATES AND TIMES:
FRIDAY OCTOBER 21ST FROM 11:00AM UNTIL 7:00 PM
SATURDAY OCTOBER 22ND FROM 9:00AM UNTIL 3:00PM

Check out the expo layout here (coming soon)

Make sure you read the info below before you go to the registration info.
ABOUT ALS ASSOCIATION:
Since 2002, The ALS Association's Oregon & SW Washington Chapter has been a lifeline for local people with ALS (Lou Gehrig's Disease) and their families. Our chapter serves the whole State of Oregon and the 6 counties in SW Washington, with an estimated 500 families, at any given time, living with ALS. These families turn to us for information, support groups, special equipment, respite care and guidance for coping with the day to day challenges. We are a Chapter of the National Organization that is the only not-for-profit health organization dedicated solely to the fight against ALS. Ninety to ninety-five percent of those diagnosed with ALS have no family history of the disease. A fatal disease, ALS can affect anyone.
Our Mission: To lead the fight to cure and treat ALS through global cutting-edge research, and to empower people with Lou Gehrig's Disease and their families to live fuller lives by providing them with compassionate care and support.

CLICK ON THE LINKS BELOW TO FIND OUT MORE ABOUT THE SUBJECT.

WANT TO REGISTER A GROUP? PRINT GROUP REGISTATION FORM
Please contact Heather at info@terrapinevents to inquire.

GENERAL RACE INFORMATION

AM I REGISTERED?
If you registered by mail or in-store, you will not show up on the confirmation page until well after it was sent in. We typically collect and then enter the in-store and mail in registrations into our database approximately 10-14 days prior to an event. Once we enter you into our database you will appear in the online confirmations.

COURSE MAPS

WHERE DO I STAY?