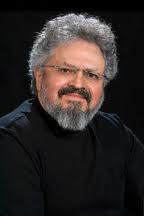 KBOO would like to wish Ed Goldberg and Ruth Kovacs well in their new adventures.
Ed Goldberg
We say good-bye to long-time KBOO volunteer, Ed Goldberg, who was the main force behind KBOO's Movie Talk program for 17 years. The show started in 1994 with Ed and his original co-hosts Sharon Whitney and Renell Shurn reviewing movies twice a month. Over the years Ed had several different co-hosts, most recently, D.K. Holm and Becky Ohlsen.
While at KBOO, Ed participated in alomost every aspect of the station, interviewing numerous authors for Between the Covers, hosting music shows and call-in programs, fundraising during our Membership Drives, serving on the Board of Directors and even serving as the interim Station Manager for a short time.
Thank you Ed for all your hard work and support for KBOO. We will miss your quick wit and extenseive knowledge of culture and politics.
Listeners can continue to catch Ed hosting on All Classical 89.9
Ruth Kovacs
The KBOO Foundation, its staff, and volunteers would like to wish KBOO volunteer, Ruth Kovacs, a fond farewell as she moves to Chicago. Ruth has been a volunteer at KBOO since 2006. As the host of KBOO's Prison Pipeline, she puts her words into action and has been an inspiration for many people. Ruth has direct involvement in the movement for prison reform. She taught classes to inmates as a volunteer at the Oregon State Prison, among other things. She is a regular contributor to Street Roots and has been active in a myriad of social justice issues. We will miss Ruth and wish her well in her future endeavors.
To read a statement about her moving click HERE