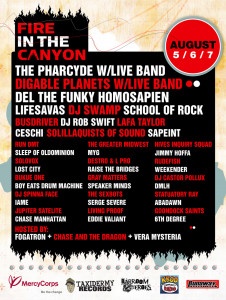 KBOO is a proud media sponsor for Fire in the Canyon
When: August 5th - August 7th

Where: Hornings Hideout in North Plains, OR
Fire in the Canyon Announces Amazing Lineup
Taxidermy Records, Runaway Productions, and Bar Room Heroes Present a Three Day Charity Music Festival, benefitting Mercy Corps.

Portland, OR – June 9, 2011 – Fire in the Canyon is scheduled to take place at Horning's Hideout from August 5th through 7th. In only its first year, Fire in the Canyon is already one of the Northwest's largest summer music festivals.  The three day event will be held at the breathtaking Horning's Hideout, just 35 minutes outside of Portland, OR, and possesses an incredible lineup of  The Pharcyde, Diggable Planets, Del the Funky Homosapien, DJ Rob Swift, The Lifesavas, Busdriver, Solliloquists of Sound, DJ Swamp, and many of the Northwest's most notable Rock, Hip-Hop, Electronic, and other acts.

A portion of the proceeds will go to Mercy Corps, an organization which works to alleviate suffering, poverty and oppression by helping people build secure, productive and just communities.  Mercy Corps's worldwide team is in 36 countries, improving the lives of 19 million people.  For more information, go to www.mercycorps.org.
The three day festival will have all-inclusive weekend camping passes available for $110 and individual day passes for $50.  Tickets will be available at all TicketsWest Locations and at www.ticketswest.com on Wednesday, June 15th.    

Stay tuned to www.fireinthecanyon.com as we update confirmed acts, art projects and vendors.

Horning's Hideout is a beautiful property, consisting of lakes, paddle boats, horse shoes, Frisbee golf, fishing, and much more.  There will also be beer gardens available to those with valid ID.

Horning's Hideout
21277 Northwest Brunswick Canyon Road
North Plains, OR 97133
(503) 647-2920
Horning's Hideout is located just 35 minutes west of Portland in North Plains, Oregon