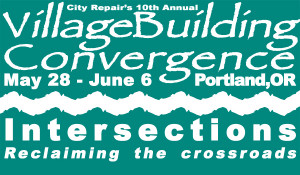 Village Building Convergence
KBOO is a proud co-sponsor of:
City Repair's 10th Annual VilageBuildingConvergence will be taking place from May 28th till June 6th in Portland, OR. Everyone is invite to participate for in the 31 community placemaking sites that will be in creation all across the city and beyond. Learn about cob and natural building, permaculture, public art, and much more as you help bring these communities projects from an idea into a reality!
Download the VillageBuilder, official guide to the VBC, and check out our Site Pages for project information and the most up-to-date schedules.
In the evening, we encourage everyone to join us at St. David's church 2800 SE Harrison, our central venue, where will join other village builders as well celebrate all the things we've accomplished and the sustainable world that we're creating together!
The presenter's this year are:
Liora Adler
James Stark
Mark Lakeman
Helen Hill (Theatrical Performance)
Doniga Markegard
Nala Walla
Rose High Bear
Tree Bressen
Starhawk
Jon Sands (Theatrical Performance)
Paul Cienfuegos
Marisha Auerbach
Penny Livingston
Andrew Langsford
and Transition PDX!
Presenters will also be offering featured VBC workshops throughout the week. See the VillageBuilder for more info!
Ticket packages are available online in the Ticketing Section
Each evening will include a healthy, vegan meal prepared with love, an astounding presentation or performance by renowned experts on the forefront of world regeneration, and to top it all off, a spirit lifting musical performance! Each evening will be filled with knowledge, nourishment, and celebration! Come be a part of our village and share YOUR story!
Musial performances will include (click links for music):
WOW! We're so excited about all of this. We've been working hard since the winter to prepare for this 10th year of urban village building and things are looking so good!
Let's go over that again!
Participate for free at community placemaking sites and/or sign up to take the VBDC during the day. Attend free site workshops or featured VBC workshops. Get tickets, or pay at the door, to join us for evening celebrations with food, presentations and musical performances. Contact vbcvolunteer@cityrepair.org for worktrade opportunities!
Visit vbc.cityrepair.org or contact vbc@cityrepair.org for more information!