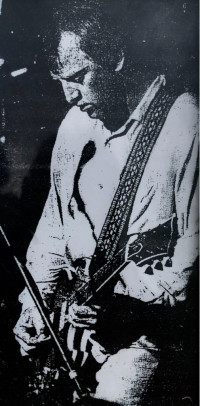 Published date:
Friday, August 20, 2021 - 12:18pm
Produced for (Program name):
The Wiggle Room Portland, Oregon Music Special for Chris Newman
Jimi Haskett, the guitarist, singer and sound producer of the bands The Inputs, Hasketron, Theatre Of Sheep, and John Shirley & The Screaming Geezers kindly supplied The Wiggle Room with close to three hours of rare, one-of-a-kind sound recordings from his vaults at Hasketron Studios.
This unique collection has never been aired on radio until now.
When Chris Newman of Napalm Beach and Snow Bud & The Flower People passed recently, it seemed like a good idea to remember his music and also showcase some of the many musicians from Portland, Oregon that were on the same bill and shared the same stages at clubs like Urban Noize, The Long Goodbye and Satyricon.
This Wiggle Room showcases 2 songs from Newman with Napalm Beach and a 4 song set from his group Snow Bud And The Flower People.
A celebration of Newman's life & music takes place on September 4th, 2021 at the Star Theater in Portland with many bands performing including John Shirley & The Screaming Geezers with Mr. Haskett on guitar.
This Wiggle Room Special also features a local musician heard at PC&S and The Laurelthirst Public House, Billy Kennedy--Billy's also never-before-aired set on this Wiggle Room Special was recorded at Haskett's Hasketron Studios as well.
Local singer/songwriter/harmonica player/collage artist Tom Chandler produced a live Youtube video performance by Billy Kennedy with Pat DeVries titled "The Billy Kennedy Show" on the WillyDodge channel that can be seen at:
Tom Chandler's Phantom Bluff performs songs from their CD "Time Will Tell" plus bonus tracks, following Billy K's set in this edition of The Wiggle Room.
Next up,
Portland musician/artist Spider Moccasin of KBOO's long running program Indian World hosted by John Talley also appears in this progarm in a "Movie For Your Ears" with Spider, Haskett, Tom Hood on guitar, Meagan Moles on vocals among others playing live in the Hasketron Studios, at The Red And Black Cafe, The Oaks Amusement Park, and at Mike Lastra Studios.
This Special also includes tracks from Greg Sage's The Wipers, a deep influence on Nirvana's Kurt Cobian and many more music makers.
Spider Moccasin points out the importance of Greg Sage of The Wipers and Chris Newman of Napalm Beach in Spider's song: "Portland Bandwagon" featured in Spider's set heard here before The Wipers & Chris Newman sets on this program.
Coyle & Sharpe also appears from their "Audio Visionaries--Street Pranks & Put-Ons" CD---a popular late night staple of lunacy here on KBOO for a long while.
This program grew out of love for Portland and its creative people and is dedicated to Chris Newman, John Talley of Indian World on KBOO, Spider Moccasin's Mother Rosella and KBOO's longtime Station Manager Alan Bailey. --R.I.P.
Thanks Again to Jimi Haskett/Hasketron Studios for making this show happen.
You can get in touch with your Wiggle Room host Bill Dodge at:
--For questions, suggestions, or to send feedbck to performers on The Wiggle Room--we would love to hear from you!
                                                                              Images: Top: Music at Hasketron Studios
                                                                             Bottom: Jimi Haskett playing guitar with The Inputs