Voices from the Edge on 01/27/11
Air date:
Thu, 01/27/2011 -

8:00am

-

9:00am
Short Description:
The man who talked with terrorists: an interview with journalist Reese Erlich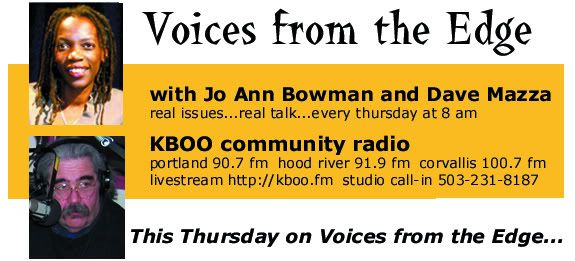 The man who talked with terrorists: an interview with journalist Reese Erlich


Ten years after George Bush launched his War on Terror, what most Americans know about our "enemies" in this war is what the Pentagon and State Department has told them. Veteran journalist
Reese Erlich
thought it worth actually talking to people we've vilified as terrorists - people like Hamas leader Khaled Meshal or Hezbollah's Grand Ayatollah Mohammed Fadlallah - to learn their actions and motives. The result is
Conversations with Terrorists: Middle East Leaders on Politics, Violence and Empire
, a collection of personal stories and first-hand interviews that provides what Daniel Ellsberg calls "a must read for anyone who wants to understand the phony War on Terror."
Jo Ann and Dave talk with Erlich about his latest analysis of American involvement in this troubled region and what needs to be done to change a policy of U.S. intervention that fuels terrorism rather than ends it. Erlich is also the author of
Dateline Havana
,
The Iran Agenda
and
Target Iraq
, as well as producer of the radio documentary,
The Struggle for Iran
.
This Thursday's special program is part of the kickoff of KBOO's winter membership drive.
Please support Voices from the Edge by becoming a KBOO member or renewing if already a member

.
Your contributions make it possible for us to bring you on air and online programs like today's interview with Reese Erlich.
Become a member or renew your membership by calling 503-231-8032 or online by clicking the tip jar at
kboo.fm
.
Jo Ann Bowman
is a former state legislator, former executive director of Oregon Action, and a long-time leader in the struggle for racial and economic justice.
Dave Mazza
is a freelance journalist and former editor of
The Portland Alliance
who has covered and been involved in Portland's
civil rights
, peace, labor and environmental movements for 20 years.
Join Jo Ann and Dave
every Thursday
as they bring you guests and discussion of issues important to you. Support programming like
Voices from the Edge
by becoming a member of KBOO today.
Program Engineer: Steve Nassar
Audio Editor: Alicia Olsen
---
Voices from the Edge
KBOO
community radio
portland 90.7 fm hood river 91.9 fm corvallis 100.7
livestream
kboo.fm
studio call-in
503-231-8187