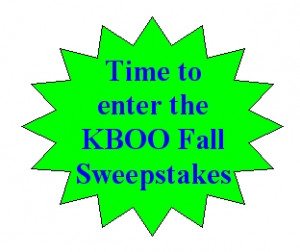 The KBOO Fall 2011 Sweepstakes is both an important fundraiser for the station and an opportunity for you to possibly win some cool stuff from these local participating businesses.  You could have entered this sweepstakes by either starting or renewing your KBOO membership, or by filling out a different form without making a contribution. 
Entry deadline was 5pm PDT Friday, October 7.

 Winners will be announced - 10am Saturday October 8th live on KBOO.

Click a business name or logo to visit their website. Click the address to see their location on a map.
GRAND PRIZE - 1 winner will receive a $500 gift certificate from this business:

Audubon Society of Portland Nature Store  |  5151 NW Cornell Rd  |  503-292-9453
Audubon Society of Portland's Nature Store, adjacent to Forest Park, offers nature books, hiking & field guides, binoculars & spotting scopes, bird feeders & seed, plus gifts & toys for adults & children, all with a nature theme. Come visit the store where "all the profits are for the birds."
SECOND PRIZES - 7 people will receive a single $250. gift certificate from 1 of these businesses: 
Tender Loving Empire  |  412 SW 10th Ave  |  503-243-5859

A record label, handmade consignment shop and screen-printing studio in downtown Portland focused on supporting local art and music.  
Posh Baby  |  809 NW 11th Ave  |  503-478-7674
A lifestyle boutique offering modern, eco-friendly, stylish products for your child. Baby/children's clothing, toys, furniture, gear and gifts.

Gazelle Natural Fiber Clothing  |  4100 NE Fremont St  |  503-288-3422
Unique, contemporary, timeless clothing for women & men. At Full Circle Resale, consign for cash, or trade for store credit.
Salvage Works  |  2030 N Willis Blvd  |  503-255-2555
Reclaimed, vintage architectural building materials including lumber.  Custom furniture, retail fixtures, chicken coop kits and beehives made from salvaged material.
Mamababy Boutique  |  4029 SE Hawthorne Blvd  |  503-233-8130
Fashionable clothing and gifts for women and children. Offering maternity, nursing and children's clothing up to size 7yr.
Cornell Farm  |  8212 SW Barnes Rd  |  503-292-9895
Cornell Farm: five acres in the west hills, offering the best home grown plants, organic supplies and planet friendly advice.

Music Millennium  |  3158 E Burnside St  |  503-231-8926 
The oldest record store in the Pacific Northwest, Music Millennium stocks a wide variety of local to international artists across virtually all music genres.
THIRD PRIZES - 3 people will receive a $100. gift certificate to 1 of these businesses:
 
Better World Club  |  412 NW Couch St. #100  |  866-239-1130
Yarnia  |  4183 SE Division St  |  503-488-0022
99 Cent Record Store  |  2940 NE Martin Luther King Jr. Blvd  |  503-679-6458
The sweepstakes is open to all, except for KBOO staff and their immediate family.