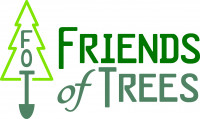 Friends of Trees is looking for crew leaders -- are you one?
Why are these people smiling? Because they're Friends of Trees crew leaders! You can be one, too.
Friends of Trees is seeking new crew leaders for the upcoming Oct.-April planting season. If you like working with people, enjoy being outdoors, and are interested in restoring natural areas or planting trees in neighborhoods, this role is made for you!
You'll get to wear a fun Friends of Trees vest and receive the respect and admiration of everyone at your planting. Don't believe me? Check out the witty perspective of Jeff,  a crew leader who trained with Friends of Trees last year. To sweeten the deal further, they'll give you a coveted Friends of Trees Tree Team t-shirt and feed you great food (a hallmark of all of Friends of Trees' planting events).
There are almost 400 active volunteer crew leaders working with Friends of Trees. Join this dynamic, fun and energetic team by signing up for a required one-day training. The trainings are extremely popular and space fills up quickly. This year's trainings are sponsored by KBOO Community Radio (hey, that's us!). Save your space by registering soon for one of the trainings below!
Green Space Initiative Training
Saturday, Oct. 27  (9:00 am – 3:00 pm) – Audubon Sanctuary of Portland, 5151 NW Cornell Rd., Portland, OR
Register HERE for this training.
Saturday, Nov. 3 (9:00 am – 4:00 pm) – Moreland Presbyterian Church, 1814 SE Bybee Blvd., Portland, OR
Saturday, Nov. 17 (9:00 am – 4:00 pm) – Fishers Landing Elementary School, 3800 SE Hiddenbrook Dr., Vancouver, WA
Register HERE for one of these trainings.
Friends of Trees' Green Space Initiative guides volunteers at watershed restoration projects throughout the Portland-Vancouver and Eugene-Springfield metro areas. The Neighborhood Trees Plant It! programs offer homeowners trees at reduced prices and bring neighbors together for weekend plantings. Since 1989, Friends of Trees has planted more than 450,000 trees and native plants in the Portland-Vancouver and Eugene-Springfield areas.
Learn more at www.FriendsofTrees.org/Volunteering, or call Jenny or Andy at 503-595-0213.