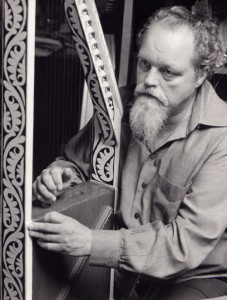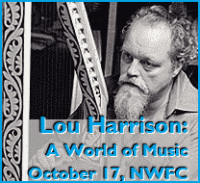 KBOO is a proud sponsor of "Lou Harrison: A World of Music" at the Reel Film Festival 10/17
KBOO is a sponsor of Lou Harrison: A World of Music, in the Reel Music Festival at the NW Film Center.
Lou Harrison: A World of Music
Director: Eva Soltes
US, 2012
Born in Portland in 1917, legendary composer, artist, writer, environmentalist, and gay icon Lou Harrison followed his dream for more than seven decades, experimenting freely with Western and Eastern (especially gamelan) musical traditions and fashioning instruments to realize his pioneering musical pathways, while powerfully standing for social equity. In more than 300 compositions written for symphony orchestra, ballet, small chamber ensembles, and soloists, his collaborators included such diverse artists as Michael Tilson Thomas, The Mark Morris Dance Group, Keith Jarrett, Yo-Yo Ma, Dennis Russell Davies, Merce Cunningham, and John Cage. Soltes' warm, intimate film, made over the course of two decades, is a fitting tribute to an inspirational visionary—human and musical. (90 mins.)
The NW Film Center presents the 30th Reel Music Festival, October 12 – 27. This annual celebration of sound and image, music and culture, profiles a range of musical genres and artists, including Richard Wagner, Amy Winehouse, Woody Guthrie, Ornette Coleman, and Portland's own Lou Harrison. The Festival takes place at multiple venues; please check the full schedule at nwfilm.org. We hope that something in this year's eclectic lineup will perk your curiosity and warm your soul. Sing along!