If you've been to a protest during the past three decades, you've probably seen her, the short, slight woman behind the camera, always in the thick of things, documenting the resistance that Portland is famous for. From the 1990 march to condemn the murder of Mulugeta Seraw by neo-Nazi skinheads to OccupyPDX in 2011; from the 1991 protests against the first Gulf War to sHell No! the successful blockade in 2015 of Shell Oil's icebreaker bound for the drilling fields in the Arctic; from the 2000 May Day police riot against peaceful demonstrators to 100 Days of BLM protests in 2020, Bette Lee has been there to create images from an activist point of view.
The Old Mole is pleased to present a retrospective of Bette's work, kicking off with an interview of the activist with a camera on August 9. Every week after that we'll post a new photo documenting Portland's protest history and linking past actions with ongoing organizing and resistance. Bette can be contacted at leebette@gmail.com.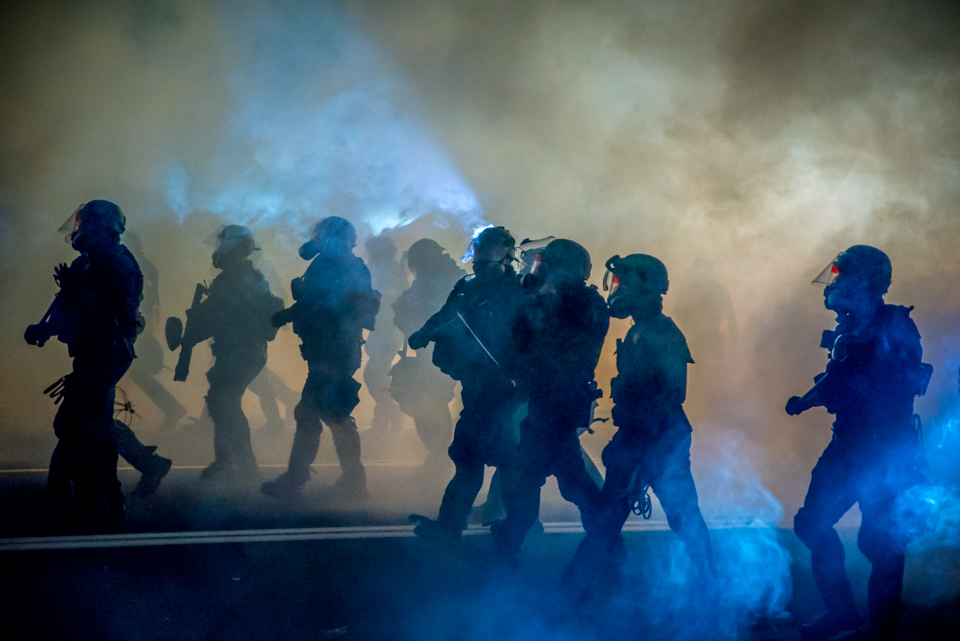 Here is Bette Lee's reflection on her photograph above of Portland Police on the 100th night of Black Lives Matter protests:
Portland became one of the main flashpoints of resistance during the BLM protests last summer which involved intense confrontations and police attacks. According to the DOJ, police arrested 1000 people, and used force over 6000 times. For over 100 consecutive nights, police pounded BLM protestors with tear gas, pepper spray, stun grenades, rubber bullets and impact munitions.  Many people suffered injuries, and lawsuits were filed against the excessive use of tear gas and police violence. This protest on Sept. 5, 2020 to mark 100 nights of resistance in Portland was no different. The police set up a road block on Stark and 113th Street, declaring the march an "unlawful assembly." About 400 protestors refused to comply with the police order to disperse, setting off fireworks and 3 Molotov cocktails, which set a man's pants on fire. Several protestors rushed to put out the fire, preventing any serious injury. The police declared a riot, and wasted no time in charging at the protestors, firing rounds of tear gas and stun grenades. About 59 protestors were arrested.