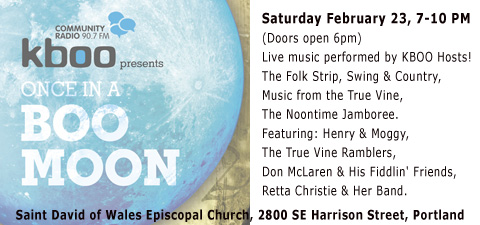 Once in a Boo Moon
Thursday, May 23, 2013

8:00 AM

-

9:00 AM

Are progressives too intent on winning? A look at the fluoridation campaign. on

Voices from the EdgeA strong win by opponents of a ballot measure to fluoridate Portland's water supply demonstrated that a grassroots movement could turn back a well-financed political campaign. But the fluoridation issue's splite of the city's progressive community revealed something else: the speed with which that community could be polarized and each side demonize the other. This week, Dqve Mazza looks at these disturbing aspects of the fluoridation campaign, whether they reflect deeper problems with how progressives advance their beliefs, and if progressives are too intent on winning.

9:30 AM

-

10:00 AM

Resistance Ecology;Interview with Animal Rights activist Justin Kay on

A Deeper LookResistance Ecology, a new organization and a new movement intent on bringing together activists and organizations from both Animal Rights and Social Justice to form an adaptive and resilient movement capable of responding to the government's ever changing modes of suppression. The First Annual Resistance Ecology Conference is this May 31st at PSU. Join me Linda Olson Osterlund and organizer Justin Kay to talk about resistance ecology and the upcoming conference.

11:00 AM

-

11:30 AM

Jean Kwok, author of "Girl in Translation" on

Between the CoversHost Sarika Mehta interviews best-selling author Jean Kwok, who is best known for her novel Girl in Translation. Jean Kwok visited Portland in April as part of PCC Reads 2012-2013: Girl in Translation.Jean Kwok immigrated from Hong Kong to Brooklyn when she was five and worked in a Chinatown clothing factory for much of her childhood. She won early admission to Harvard, where she worked as many as four jobs at a time, and graduated with honors in English and American literature, before going on to earn an MFA in fiction at Columbia.
Friday, May 24, 2013

9:00 AM

-

12:00 PM

The Vanport flood and racism in Portland: sixty five years later on

Special Programming: Public Affairs Sixty five years ago this week, the Columbia River flooded into the largest public housing project in the U-S at the time, leaving 18,000 black people homeless and changing race relations in Portland forever.On Friday May 24th, from 8 am to noon, KBOO presents a special program on the Vanport flood and racism in Portland, sixty five years later.We'll feature historians and archived audio, as well as a discussion led by PSU professor and activist Walidah Imarisha asking 'Why are there so few black people in Oregon'.

6:00 PM

-

7:00 PM

"The House that Herman Built", living exhibit by Jackie Sumell on

Bread and Roses"WHAT KIND OF HOUSE DOES A MAN WHO HAS LIVED IN A 6' X9' BOX FOR OVER 30 YEARS DREAM OF?" This is the question that artist and activist Jackie Sumell asked Herman Wallace in 2003. Herman has been in solitary confinement or Closed Cell Restriction [CCR] for over 40 years. He spend most of thiese years at The Louisiana State Penitentiary, also know as Angola. He is one of the "Angola 3" along with Robert King and Albert Woodfox.Listen to Jackie recounting how she became aware of Herman's cndition and how they collaborated on an art exhibit meant to raise awareness about the prison industrial complex and the trauma of solitary confinement.Check out The House That Herman Built
Saturday, May 25, 2013

2:00 PM

-

5:00 PM

Jim Pepper: Re-imagining a Jazz Sensibility on

The Motif: Re-Imagine a Jazz SensibilityJim Pepper: Re-imagining a Jazz Sensibility on KBOO 90.7FMTune into KBOO 90.7FM this Saturday May 25 2:00-3:30pm PST for an hour and a half of rare Jim Pepper audio tracks, Jim PepperFest 2013 updates and sparkling, witty and erudite conversation on The Motif's show.Live streaming here: http://kboo.fm/themotifOne of the great things about KBOO (Full Strength Community Radio) is that the station's programmers have such wide latitude with their time, with time itself, in that they can play tracks that most stations won't touch because of their length.Jim Pepper never recorded for pop radio. Probably 95% of his recorded tracks are longer than five minutes. You need a long attention span to really hear and understand his music.
Sunday, May 26, 2013

10:00 AM

-

11:00 AM

Rescuing a neglected Yiddish treasure on

Portland Yiddish HourJoin Barry for a conversation with Portlander Eric Klein, who is working with Toronto writer Michael Wex on a project to translate the 1921 Classic Yiddish novel, "In Poylishe Velder" (In the Forests of Poland) into a free e-book for 2015.This is a crowd-source project that needs to be funded by June 7. Read all about it here:http://www.indiegogo.com/projects/new-authorized-translation-of-a-classi...

6:30 PM

-

8:00 PM

Interview with Whiskey Barons on

Astral TravelingJoin DJ Sesqui host of "Astral Traveling" this Sunday as we speak and listen to the dynamic duo Whiskey Barons. Hailing from Boston, DJ Bosq and The Bogart have been scorching up dance floors around the world with their tasteful remixes from Stevie Wonder, Fania All-Stars and Marvin Gaye just to name a few. Also well get a glimpse into their new upcoming original work and they will give us some thoughts on their flavorful studio techniques. DJ Standing 8 will be bringing in some Whiskey Barons heat as well as mixing fine dance cuts to add to this fun-filled funkified fat Sunday!
Monday, May 27, 2013

11:00 AM

-

11:40 AM

Cooked: A Natural History of Transformation on

HealthwatchIn Cooked, Michael Pollan explores the previously uncharted territory of his own kitchen. Here, he discovers the enduring power of the four classical elements—fire, water, air, and earth—to transform the stuff of nature into delicious things to eat and drink. Apprenticing himself to a succession of culinary masters, the lessons move beyond the practical to become an investigation of how cooking involves us in a web of social and ecological relationships. Cooking, above all, connects us. The effects of not cooking are similarly far reaching. Relying upon corporations to process our food means we disrupt an essential link to the natural world; and weaken our relationships with family and friends.

11:40 AM

-

12:00 PM

Living Yoga and the 2013 Yogathon on

RadiozineHost Ren Green speaks with Michael Faith, Executive Director of Living Yoga, about the 2013 Yogathon in which participants create their own yoga challenges and then get sponsors to support their efforts; similar to how the breast cancer walkathons work.Living Yoga's mission is to reach adults and teens in prison and in drug and alcohol treatment centers - yoga-style! - as a means of rehabilitation. http://living-yoga.org/